OK, Snark King, it's your turn.
I've had it in the back of my head to blog about a really offensive post by The Clarion-Ledger's city reporter Brian Eason for weeks now, but it had fallen to the side in the need to report actual news. But while cleaning up my desk today, I started noticing a pattern—first from a clipping of another snarky thing he wrote calling a whole city office stupid, and then I saw a blog post belittling an enterprise story by our staff this week, but without actually saying what was in it or linking to it. So here's my Friday afternoon round-up of what I've been noticing about Mr. Eason's snark, which I assume is meant to be humor, except none of it is funny.
No. 1. http://blogs.clarionledger.com/thebuzz/2013/04/24/jackson-city-council-candidate-running-on-anti-terrorism-platform/">Don't dare compare crime to terrorism, dumb little council candidate. After 20-year-old minister Corinthian Sanders decided to get involved enough to run for City Council, he made the mistake of saying that the "terrorism" of crime was one of his top priorities (as if he's the first to ever say that here). Sanders told the Jackson Free Press: "Let's talk about getting our lawbreakers, criminals—I call them terrorists….(If) you can't go anywhere without killing someone or robbing someone or terrorizing someone, that's terror, (and) you're a terrorist; you're a domestic terrorist." The mention of the word terrorism tickled Eason's funny bone. He snarked:
"To my knowledge, no major terrorist attacks have occurred or been planned on our streets, and the Jackson Police Department reported no terrorist incidents in 2012, according to its published crime stats. But maybe that's what the terrorists want us to think.

"Lest anyone think Sanders is trying to politicize the Boston Marathon bombing, rest assured, his commitment to fighting terrorism on the streets of Jackson predated the explosions at the marathon.

"But while Sanders listed counter-terrorism as his No. 2 priority, right behind "protect, improve and increase affordable housing," none of his competitors — or, indeed, any other candidates in the entire metro area — mentioned local terrorism as a problem worthy of their consideration.
Eason's blog post shows he later clarified what Sanders meant, and quoted Sanders' above words from the JFP in an addendum to the snark-post, but that nasty horse was out of Eason's barn by then. That's what you get for running for office in Jackson, Corinthian. The ire of a native Dallasonian. And I really don't know what all his references to monkey videos on your Facebook page were about, and don't care.
No. 2. In a post called http://www.clarionledger.com/article/20130512/NEWS01/305120052/Brian-Eason-s-Buzz-Common-sense-Not-when-comes-Jackson-city-clerk-election-results">"Common sense? Not at clerk's office," Eason showed the entire staff of the Jackson city clerk's office not to mess with him, no sir. He was irked that he couldn't get election results from the clerk's office at 11 a.m. the day after the primary. They didn't have certified results available, yet, and gave him a bit of a runaround. OK, it's fair to complain about records delays; we get miffed about delays for public records, too. But, seriously, no "common sense" in the clerk's office? Does he know that it was a problem with the staffers there for sure? It couldn't possibly be a delay somewhere up or down the pipeline that he might need to investigate and offer solutions for in the future (sans juvenile snark)?
(Note: We got the elections results quickly with little drama, as I recall.)
No. 3. Then today, Eason decides to go directly for the JFP's jugular by http://blogs.clarionledger.com/thebuzz/2013/05/31/whitwell-for-mayor-the-maths-a-bit-fuzzy/">making fun of a story that our news staff spent enterprising reporting time on this week, the http://www.jacksonfreepress.com/news/2013/may/29/stealth-whitwell-write-campaign-you-cant-do-it/">so-called secret write-in campaign for Quentin Whitwell, and ended up just carrying water for the councilman himself. From reading the post, it sounds like Eason was perturbed that he didn't figure out that the email might have originated from Whitwell's wife's business partner when she was on vacation with Whitwell's wife (none of them will call back to confirm or deny, so we can't say for sure), so he just skips over all of that to make fun of reporter R.L. Nave's blog post and story. (R.L. has so far this year won http://www.jacksonfreepress.com/weblogs/jackblog/2013/may/08/jfp-wins-multiple-journalism-awards/">four regional and national awards for his reporting; not sure what Eason's count is ... but now I'm being snarky; sorry).
Essentially, the whole dumb blog post rewrites R.L.'s stories into a straw man that Eason tries to beat the hell out of, as he allows Whitwell to blame us for even bothering to find out if a local elected official was trying to defeat another one with a secret, unregistered campaign. (Whitwell told us he didn't know about the email, which was in the story.)
Remarkably, Eason makes fun of the fact that R.L.'s story linked to Whitwell's deleted Facebook thread, wholly missing the point that that was the only place we know of where Whitwell has said he knew nothing about the email. In other words, that part is good for Whitwell, as long as it was true, and we have no reason to say it wasn't. I'm stunned that Eason's blog claims to be an "Eye on Government," and he is simply not comprehending very basic components of this story. And just publishing an elected official's story after not reporting it at all is most certainly not keeping an "eye on government." Everything about this offends my journalistic sensibilities. It feels like bad P.R.
And, of course, Eason doesn't actually link to our stories as he's cherry-picking them, but instead to a local hateful blogger who got kicked off this site a few years back for threatening to kick our Latino reporter's butt in a thread about immigration. It was a stunning use of Gannett's bandwidth to, I presume, deflect the fact that the Ledger missed another important election story that readers have the right to make their own decisions about.
Eason also makes fun of http://www.jacksonfreepress.com/news/2013/may/20/campaign-trickery-lumumba-race-traitor-lee-rankin-/">our efforts to determine who put out VOTE signs in just majority-white parts of Jackson days before the runoff. I'm guessing he can't imagine driving around the city to figure out such a thing and trying to get sources to say whether or not they were the work of a particular campaign or PAC; perhaps transparency isn't his priority, after all (see city clerk belittlement). It probably also doesn't bother him that many of them were still out days after the election as trash on our right-of-ways. http://www.jacksonfreepress.com/news/2013/may/22/future-jackson-depends-you/">Read my column disputing the signs' message here.
No. 4a. Two of Eason's election news reports (and maybe more; I haven't had the stomach to read them all), also displayed shoddy, selective reporting. The http://www.jacksonfreepress.com/weblogs/politics-blog/2013/apr/29/clarion-ledger-disputes-jonathan-lees-account/">first one came out three days after the JFP broke the news about Jonathan Lee's multiple default judgements. Eason's angle emphasized the local attorney and Harvey Johnson supporter that the C-L believed sent out the public (!) information to various media outlets.
(Note they had not reported the default judgments when they got the information, which reminded me of the Ledger not going with the http://www.jacksonfreepress.com/news/2006/sep/01/breaking-melton-kids-accused-of-destroying/">Melton duplex demolition story until days after the JFP broke it, but we can't blame Eason for that -- he hadn't moved to town yet.)
The Lee "followup" to our story essentially demonized the source, giving the non-journalists out there the impression that it's somehow a horrible thing that a campaign supporter would provide public records to the media. Guess what? The Ledger had been getting tips from many of the campaigns and their supporters just as we had been, but they didn't feel the need to "out" those sources.
Also, I had to write the editor there to figure out if Eason actually talked to Lee for that story because the piece seemed to reveal Lee's thoughts without direct attribution -- making it seem like some of the info came from our story. (They said they did interview Lee for it, but remarkably didn't quote him. I have no idea why they wouldn't quote the candidate.)
No. 4b. The second story that I know he screwed the pooch on came out earlier this week. In http://www.clarionledger.com/article/20130528/NEWS01/130528011/">"How Lee Lost," Eason opined that "devastating attacks" by Lumumba's side cost Lee the race. He stated:
"There are a number of reasons, but the most damaging was a barrage of attacks at the finish line in the form of mailers, radio ads and flyers.

"Rep. Bennie Thompson, D-Jackson, on Friday set the tone for what was to come. "When I see Republicans from Rankin and Madison County supporting the other so-called Democrat in this race, I know that something is fishy," Thompson said in a radio spot paid for by Lumumba's campaign. "I know these Republicans well, because they are the same Republicans who always support my opponents, and they opened their checkbooks last fall for Mitt Romney in an effort to kick President Obama out of the White House."
The problem both Lee and Eason had here is that these points were true. Lee did have immense support from Republicans, both in Hinds and beyond, http://www.jacksonfreepress.com/weblogs/politics-blog/2013/may/05/factcheck-is-jonathan-lee-a-rankin-county-republic/">as we reported here before the primary. People could decide for themselves what they thought about that, but Eason seemed to buy into the Lee campaign's narrative that it was "unfair" (Eason even used that word in a news story) to tell people about it.
He then stated: "Then came mailers tying Lee to Republicans like Romney and former Gov. Haley Barbour, by way of shared donors. Flyers bearing a similar message also were circulated on Election Day."
Being that Eason has been here a year and half, he may not know that this is a long-time Republican tactic in our state: picturing a local candidate next to hated Democrats like Bennie Thompson and Hillary Clinton. Sure, it was negative campaigning and exaggerated, but the ads were at least based on some degree of fact.
But what is journalisticially remarkable—I might even call it malpractice—is that Eason never mentioned http://www.jacksonfreepress.com/news/2013/may/20/campaign-trickery-lumumba-race-traitor-lee-rankin-/">the attacks from Lee supporters back on Lumumba, including the http://www.jacksonfreepress.com/documents/2013/may/20/lumumba-race-traitor/">flyer distributed on cars at churches that called him a "race traitor" based on a blurred Mississippi Sovereignty Commission document that indicated nothing like that. Eason also left out the http://www.jacksonfreepress.com/news/2013/may/21/what-citizens-better-jackson/">TV and radio ads Lee supporters ran against Lumumba using what Lee himself called "sound bites" to try to prove that Lumumba wasn't a Christian.
To hear Eason tell it, the negative campaigning against Lee over his Republican support was devastating enough to take him out of the race -- with no indication of what his own negative campaigning did to his chances. Or, for that matter, the effect of Lee's business problems, which had had time to reach more voters by then.
Ah, but Eason counters, it wasn't "fair" because Johnson got money from Republicans, too. Yes, Mr. Eason, he did, but there was little comparison between the depth of Republican support, and from Republicans who support very extreme national Republicans in many cases ($1.2 million worth federally since 2008). Trying to equate the two was absurd false equivalency, which he might have known had he done the research on the amounts. But that didn't seem to be his priority. He seemed out to equate when it looked good for Lee and to not equate when it would look bad for Lee.
This selective reporting gave me the sense that Eason was trying to excuse the Ledger's prediction that Lee would be hard to beat after the primary (http://www.clarionledger.com/article/20130528/NEWS01/130528011/">which he mentions in his first sentence) and perhaps even to explain their endorsement of Lee in the runoff. (Both the JFP and the Ledger endorsed Harvey Johnson Jr. in the primary.)
Once again, these news stories showed contempt for Jacksonians: for the source of important public information about a candidate, and for those who supported a different candidate than he seemed to want to defend. He also showed contempt toward the idea of protecting sources of good information, and to fellow journalists, such as R.L. Nave, who are working to get as much information as possible out there so people can decide for themselves. Put simply, I'm not impressed and after watching this pattern unfold, I wonder why Eason even bothers to cover a city whose citizens he seems to find so undeserving of fair, complete information. Maybe Jackson isn't his cup of tea. The city needs and must demand more enterprise reporting than he seems to be in the mood to take on.
I can tell you this: I can't imagine a city where we didn't report the kinds of news and information that Eason openly belittles. It would be kind of like going back in time when crime sensationalism ruled, and The Clarion-Ledger endorsed Frank Melton http://www.jacksonfreepress.com/news/2005/jul/20/turnabout-melton-changes-story-about-leak/">without mentioning that they knew he was lying under oath.
In other words, a city with no accountability because the "local" media can't be bothered. We must do and demand better, Jackson. That includes y'all, Gannett.
In response to: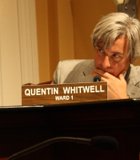 City & County
Jackson residents waging an underground write-in mayoral campaign for Ward 1 Councilman Quentin Whitwell are wasting their time, individuals familiar with Mississippi election law say.