Jackson City Council President and Ward 7 Councilwoman Virgi Lindsay voted on Tuesday, Nov. 9, for the ordinance establishing code of ethical conduct for the members of the council. Violations attract a $500 fine and possible removal from office. Photo by Delrico Harris
Stories this photo appears in: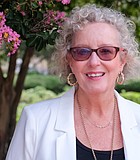 City & County
After introducing the ordinance at a special meeting on Oct. 28, the Jackson City Council adopted a code of ethics on Tuesday, Nov. 9, with violations attracting a $500 fine ...