All four men are accused of paying former Mississippi Corrections Commissioner Christopher Epps (pictured) $2,000 and promising him future bribes to secure his help in influencing sheriffs, especially those with regional jails overseen by the state. Epps was convicted of taking more than $1.4 million in bribes from private contractors and is serving a nearly 20-year federal prison sentence in Texas. File Photo by Trip Burns
Stories this photo appears in: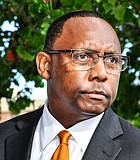 Crime
Four Louisiana men say they'll plead guilty to charges that they tried to bribe a Mississippi sheriff with $2,000 in casino chips, seeking lucrative jail contracts.