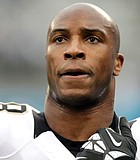 Person of the Day
On Sept. 13, the New Orleans Saints announced the death of Flora native and former NFL linebacker Parys Haralson. The former All-American, as a senior at Madison Central High School, ...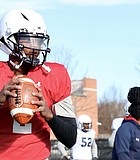 Person of the Day
Sanders, son of Jackson State University head coach Deion Sanders, enjoyed his best game as a college football player. He threw for 362 yards on 30 of 40 passing with ...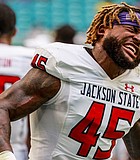 Person of the Day
Jackson State University opened the 2021 season against Southwestern Conference newcomer Florida A&M University. The Tigers and the Rattlers faced off in the Denny's Orange Blossom Classic in Miami Gardens, ...
Person of the Day
College football returns with a full slate of games this Saturday in what is considered week one of the season. Last Saturday, a handful of games were played on what ...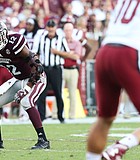 Sports
The New Orleans Saints are starting the 2021 season without Drew Brees since he retired after the 2020 season, leaving a major hole in the Saints' offense as the franchise ...
Sports
Former University of Mississippi quarterback Jordan Ta'amu is getting another shot at the NFL. Injuries to Detroit Lions backup quarterbacks Tim Boyle and David Blough led the squad to sign ...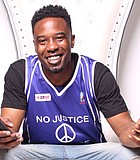 Person of the Day
Through Knowledge Camp University, Robert Martez Hopkins ministers to his community, serving more than 200 children across south Jackson in various ways, alongside head coach David King and assistant head ...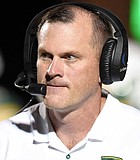 Person of the Day
Belhaven University football did something in the spring of 2021 that the program hadn't done since 2012. The Blazers finished the season with a winning record at 3-2 overall, the ...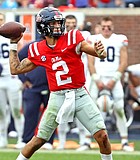 Person of the Day
When it comes to quarterbacks heading into the 2021 college football season in the Southeastern Conference, uncertainty is in the air.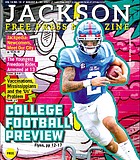 Sports
Unless the current Delta variant spike causes changes—stay tuned—this new season could end up resembling, at least in part, football seasons of years past—with full stadiums and all teams opting ...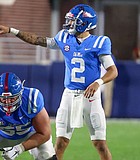 Person of the Day
The University of Texas at Austin and the University of Oklahoma announced Tuesday, July 27, that they intend to leave the Big 12 to join the Southeastern Conference.
Person of the Day
Fred McNair took over the Alcorn State University program as head coach on Feb. 2, 2016. The job became open after Jay Hopson left to take a head coaching job ...
Person of the Day
Pitcher Will Bednar has forever become a part of Mississippi State University lore. He was instrumental in delivering the first national championship in school history as the Bulldogs won the ...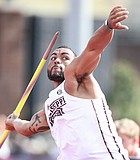 Person of the Day
Due to COVID-19, Olympic dreams were put on hold for every athlete heading to the 2020 Tokyo Games. The wait was even longer for former Mississippi State University star Curtis ...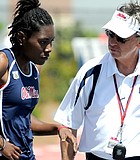 Person of the Day
Brittney Reese is returning to the Olympic Games for the fourth time in her historic career. Reese won her 13th career national title to punch her ticket to the Tokyo ...
Previous Next