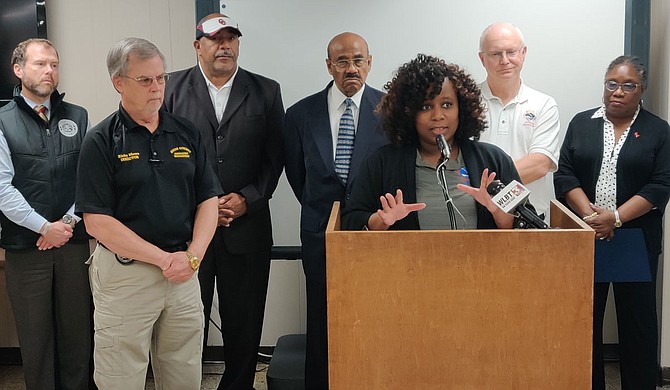 Mayor Chokwe A. Lumumba issued a state of emergency declaration late in the day, after the City of Jackson had issued an evacuation order for residents of Northeast Jackson in low-lying areas near the Pearl River earlier, citing updated estimates from the National Weather Service. The NWS warns of a 38-foot crest on the Pearl River by Sunday morning, the third highest in recorded history. Comparatively, the 1983 floods in Jackson followed the Pearl River rising to 39.58 feet.
An interactive map of areas expected to flood can be found HERE, listed in the box at top right under 'Pearl River @ Jackson'. A list of streets affected by each level of the Pearl River can be found HERE. The City of Jackson has ordered the evacuation of all residents at the 38-foot level and below.
Lumumba joined officials at the Emergency Management Operations Center earlier in the day to address the city. "Residents who need assistance (evacuating their homes) should call 311," he said. After the flooding begins, Lumumba warned, "you may not be able to get out to the roads. We do not take this warning for granted." A long-term shelter is available at the Police Training Academy on 3000 St. Charles St. Accommodations and showers will be available to evacuees.
Two to three inches of unexpected rain fell last night on the Jackson area, where only one to one and a half were previously forecasted. The MEMA website will have a map of areas in danger of flooding inundation available later today. MEMA Director Gregory Michel said that residents in the inundation areas should make plans to evacuate, starting immediately.
"We want the people to evacuate as soon as they can," Rep. Credell Calhoun, D-Jackson, said at today's meeting.
The state of emergency declaration came later in the day, via e-mail.
The Pearl River was previously expected to crest at 35.5 feet by Saturday morning, the National Weather Service reported, one foot higher than the river reached during last month's catastrophic flooding. The perilously high waterway means rainfall in the coming week could easily cause flash floods, similar to the January inundation that flooded many homes in the Jackson metropolitan area.
The City declared a state of emergency during this year's initial flooding, which remains in effect today. Particularly, residents living near Lynch Creek, Town Creek, Purple Creek, Hanging Moss, Hemingway Circle, Camelot Apartments and any other location near the Pearl River should exercise extreme caution in the face of inclement weather.
Though the Pearl River is expected to reach its flood stage by the weekend, the immediate rainfall is not expected to flood homes outside the evacuation area. National Weather Service hydrologist Marty Pope said that "35.8 (feet) is when homes begin to flood." At that point, "There will be a substantial amount of street flooding, in northeast Jackson and in the downtown area," he added.
The real danger could be in the coming week, with potential rain forecast for Monday and Tuesday. The intensity of that rain is still unclear, National Weather Service meteorologist Janae Elkins said in an interview. "We're not predicting any of the rainfall to be heavy at this point." But, she admitted, "things get shaky beyond three days."
Jackson residents should watch the weather forecasts over the weekend. A heavier than expected rainfall next Monday on an already overburdened Pearl River and a full reservoir could cause massive flash floods.
"Right now they're talking about the possibility of some flash flooding next week, but we don't know the extent until it gets closer. We'll be watching that storm carefully," Director of Hinds County Emergency Management Ricky Moore said.
John Sigman, general manager of the state agency that oversees the Ross Barnett Reservoir, said in a statement Tuesday that the reservoir would begin holding water once inflows fell back to 55,000 cubic feet per second. As of last night, over 74,000 cubic feet per second of water flowed out of the lake. The reservoir is anticipated to rise to 298.5 feet by Saturday. At the 300-foot mark, the reservoir's emergency spillways activate, with no room left in the artificial lake for floodwaters. Sigman shared updated estimates today: officials now expect up to 95,000 cubic feet per second to flow into the reservoir.
Mayor Chokwe Lumumba warned in a press statement of flash floods in the days to come. Residents at risk of home flooding can pick up sandbags between 8 a.m. and 5 p.m. at 4225 Michael Avalon St. City officials told the Jackson Free Press that Jackson does not have the resources to deliver sandbags directly to residents and encouraged neighbors to band together and help those who could not barricade their own homes.
Email state reporter Nick Judin at nick@jacksonfreepress.com and follow him on Twitter at @nickjudin.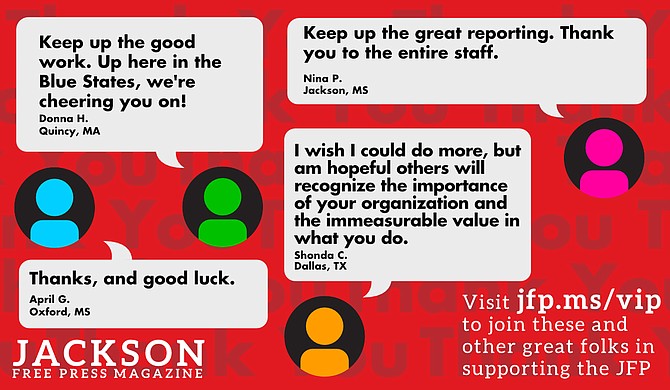 Thanks to all our new JFP VIPs!
COVID-19 has closed down the main sources of the JFP's revenue -- concerts, festivals, fundraisers, restaurants and bars. If everyone reading this article gives $5 or more, we should be able to continue publishing through the crisis. Please pay what you can to keep us reporting and publishing.