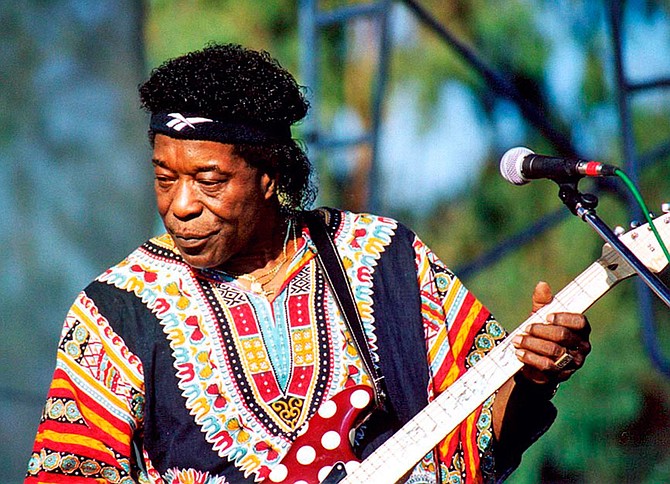 BATON ROUGE, La. (AP) — Baton Rouge, La., will honor blues legend and Louisiana native Buddy Guy during a ceremony on Saturday, Dec. 8.
The Advocate reports that tourism officials will honor Guy and his contributions to music.
Guy was born in Lettsworth, La., in Pointe Coupee Parrish. He began performing with bands in Baton Rouge in the 1950s and later moved to Chicago on Sept. 25, 1957. He later began recording with Cobra Records in Chicago and collaborated with blues vocalist Junior Wells for Delmark Records from 1965 to 1966, performing under the pseudonym Friendly Chap.
He participated in the American Folk Blues Festival, an annual music festival that tours through Europe, in 1965. Guy also performed as part of the musical documentary "Supershow" in Staines, England, in March 1969, in which he appeared alongside other artists such as Eric Clapton, Led Zeppelin, Buddy Miles and Glenn Campbell. In 1972, Guy co-founded The Checkerboard Lounge in Chicago together with fellow blues artist L.C. Thurman. The club closed after Thurman's death in 2015.
Guy, who is 82, received the National Medal of Arts from former President George W. Bush in 2003. He was inducted into the Rock & Roll Hall of Fame in 2005 and the Louisiana Hall of Fame in 2008. Guy received the Kennedy Center Honors in 2012 and was inducted into the Musicians Hall of Fame and Museum in Nashville in 2014. He won a Grammy Award for Best Blues Album for his album "Born to Play Guitar" in 2016.
During the Baton Rouge ceremony, Louisiana and Mississippi officials will declare a "Buddy Guy Day" and unveil a marker as part of the Mississippi Blues Trail. They will also designate Highway 418 in Lettsworth as Buddy Guy Way.
Copyright Associated Press. All rights reserved. This material may not be published, broadcast, rewritten, or redistributed.