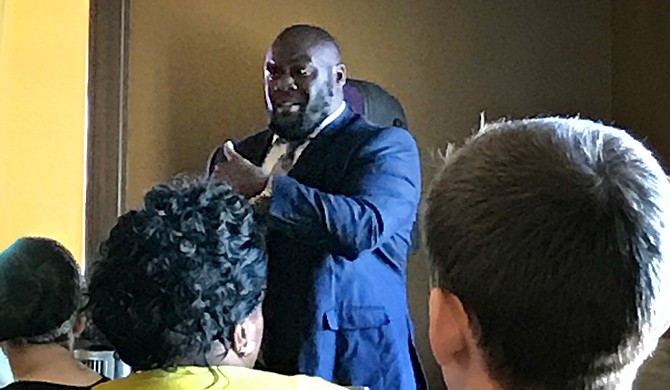 JACKSON — Redeemer's School welcomed its first group of kids in August 2014. Since its inception, DeSean Dyson said the school has grown in purpose and size.
Dyson spoke before a community forum at Koinonia Coffee House in Jackson to discuss the "valuable Christian education" of Redeemer's School. The school, which is privately funded and takes no federal money, will serve more than 90 children from Pre-K to 4th grade in the fall.
He emphasized the school's focus on teaching the "whole child" by connecting the classroom, home life and church. "The system has not done what is designed to do," Dyson said.
What sets Redeemer's apart from other school experiences is the community aspect, specifically among parents, Dyson said. He added that Redeemer's school makes it a point to connect families to community resources depending on what they inquire about.
"Home life is a much better indicator of their performance than necessarily their ability," Dyson said.
Jackson resident Dwight Utz emphasized the importance of a child's life in school and at home by mentioning his mentorship of a child he knew and how it aided him for the better. "The social aspect outside of school is very important," Utz said.
Dyson, a product of both Jackson and Clinton public schools, explained how he started to see a bigger picture when it came to education, not just about the type of school. "I believe, ultimately, that there is a bigger perspective to have," Dyson told the crowd. "I'll talk to whoever, private, public, charter, I'll listen to you."
Redeemer's School is directly affiliated with Redeemer Church. The two communities go hand in hand, but Dyson said the school does not discriminate when it comes to kids and their religion.
"We have families who don't make a faith proclamation," Dyson said. "Our mission is we are going to teach Christ and Christianity as truth."
The forum held questions and answers on Redeemer's School and Dyson's message with a focus on perspective.
"Our community has a lot of need, and everybody has thoughts on how we can address that need," Jackson resident Jonathan Lee said to the crowd. "I appreciate you coming to share your thoughts and your ideas on that need."
Dyson said the most important aspect of the school is helping a child grow into not only good students, but great citizens. "We try to create an intentional all around relationship, an intentional all around partnership, an intentional model that carries the weight," Dyson said.