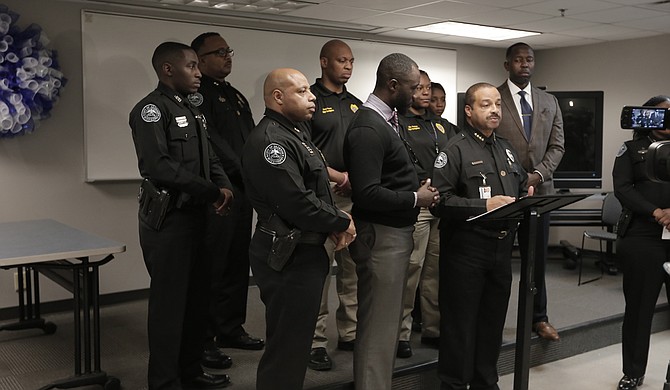 Two Jackson teenagers are in custody after a recent string of armed robberies, including of Beatty Street Grocery, Nail City and Waffle House, Police Chief Lee Vance said Thursday during a press conference in police headquarters.
JPD made the first arrest through a collaborative effort with the Ridgeland Police Department on Wednesday, Feb. 10. Police charged the 17-year-old suspect with four counts of armed robbery of a business and two counts of armed robbery of an individual. The Jackson Free Press does not typically identify minor suspects.
Pierre Pryer, 19, turned himself in Thursday afternoon. He has been charged with three counts of armed robbery of a business and one count of armed robbery of an individual.
Chief Vance said that working with the Ridgeland PD and the community led to the arrest. JPD issued a warning to the public last week that led to an anonymous tip that pointed police to the first suspect.
"We can only do what the justice system allows us to do, but we're going to do whatever it takes within our power to keep these citizens safe," Vance said at the press conference. "It's up to the citizens to hold the other parts of the justice-system accountable, and I hope they do."
The Jackson Police Department is still searching for suspects in the recent surge of carjackings targeting women, but have not released suspects' names or photos.
The new COMSTAT report shows that, year to date, armed robberies are up 30 percent over the same period in 2015. Comparing the previous period in 2015 to 2016, there was a 53.8 percent increase in carjackings but a 33 percent decrease in auto burglaries.
Chief Vance said Thursday that JPD's main goal is protecting citizens, but people can take precautions to keep crime down. The Jackson Police Department released these tips last week to the public:
• Be aware of your surroundings as your walk to or away from your vehicle.
• Be aware of your surroundings when you are a pedestrian.
• If you feel that you are being followed, call 911 immediately and report your location and description.
• Stay on the phone with the dispatcher in a well-illuminated area until an officer arrives.
• Avoid dark and isolated areas while alone. If possible, travel with others during nighttime hours.
• Report any suspicious activity.
• Avoid distractions, (e.g. cell phones and loud music) while traveling or walking to or away from your vehicle.
• Avoid the display of items that could be attractive to suspects.
• If anyone has any information on the identity and/or location of the suspects involved in these incidents please call the Jackson Police Department at 601-960-1234 of 601-355-TIPS.
Maya Miller is the deputy news editor of the Jackson Free Press. Email criminal-justice and other story tips to her at news@jacksonfreepress.com.
More stories by this author