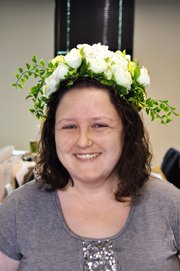 When I was younger, I dabbled in filmmaking. I say dabbled because I only made a few videos with my friends. They were mainly just us goofing around. If it was something besides just goofing off, it probably wasn't scripted. I often thought about going to film school, though it always seemed like a pipe dream. Even in college, I considered changing my major to film because I love movies and the filmmaking process.
Even if I have all these videos and dreams, I don't think I could ever be a filmmaker, though I could definitely see myself as a screenwriter. But I've always respected the work of filmmakers and what they do. It's incredible how they can take an idea and translate it onto a screen. As a rule, my favorite films are the weird ones.
The first time I encountered Crossroads Film Festival was at Parkway Place Theater a long time ago. I walked into the movie theater to see a film by myself (something I've always liked to do), and I saw the events' merchandise table. As I bought a Crossroads bag (which I still have to this day), I remember thinking of how neat it was that Jackson, out of all places, had a film festival. I've tried to go every year since and either haven't had the money or the time, which is sadly the case this year. I'll be out of town during this year's festival.
The Crossroads issue is one of my favorites to do at Jackson Free Press. One of my first assignments as an intern was to review films for the 2013 festival, and I loved getting to see some of the films before everyone else did. Last year was the first time I planned the Crossroads issue, and this year, the tradition continues.
I and other writers, including Genevieve Legacy, Richard Coupe, Ronni Mott and R.L. Nave contributed to this cover package, reviewing films that cover everything from Depression-era Mississippi, to a wandering rabbi, to the Motor Vessel Mary Parker. Though we never have time to review every film, we get to see a good chunk of them, and to us, they're all good. And many of them are done by Mississippi filmmakers; catch those in the Mississippi film blocks at the festival.
This year's films tell stories of tragedy, happiness, anxiousness and the everyday lives of the people featured in them. They're a celebration of our state, from its namesake river to small towns to the quirkiness you so often find in Mississippi. One of the films I particularly enjoyed was "Leadway," which features Shaw, Miss., native Cindi Quong Lofton, whose father, Alfred Quong, who owned the Leadway grocery store, was killed in 2007 (see page 17).
Crossroads doesn't just include films from professional filmmakers. Many of its films come from students, and what they created is incredible.
Micah Smith's cover story (see pages 13-14) gets inside the state's film industry and highlights its intricacies, such as how its film incentives program works.
The story also highlights a couple of the challenges Mississippi presents to many filmmakers, including its lack of a working crew base, though schools such as Hinds Community College are working to change that.
With Mississippi's creative class on the rise, it's no surprise that film festivals such as Crossroads and others, including the Jewish Film Festival, have survived over the years. Maybe people doubt the validity of the state's creative class, but Crossroads is a testament that the class not only survives; it thrives. It paves the way for people like me to write novels, or for others to write screenplays and make movies, and for local artists such as Clay Hardwick to create the art for the Ruma Award at this year's festival.
The Ruma is named for former Crossroads vice president, Ruma Haque, who died in a car accident in 2002. Haque, an attorney, was an active supporter of Jackson's creative efforts. A local artist designs the award each year, which is given annually to the festival's most promising filmmaker.
Mississippi's burgeoning film industry is one of the things that will keep college graduates from leaving the state. The state may be small—some would say backward—but the creativity of its residents only serves to improve how the world views Mississippi.
While I roll my eyes at some of the things the state government does, I'm still proud to be from and live in Mississippi. I may not stay here forever (just because I've lived here my entire life), but when I decide to leave, I can leave knowing that I can pass the torch to those who decide to stay or even come back home from wherever they've been. After all, who knows better about home than Mississippians? And of course, I'll come back to bring whatever knowledge I find somewhere else and apply it here.
Crossroads attendees, whether you're from here or somewhere else, know that you are contributing to the creative class in Mississippi. By attending the festival, you are helping build the state's film community and improving the way the rest of the world sees Mississippi, then you're in luck. We want you here. We like you being here.
You make us look good.
Crossroads Film Festival is April 9-12. The festival begins at Hal & Mal's (200 S. Commerce St., 601-948-0888) April 9, with the Great Southern Music Video Showcase, which WJTV sponsors. The event is $5 and begins at 7 p.m. The films show April 10-11 at the Malco Grandview Cinema (221 Grandview Blvd., Madison, 601-898-7823). For more information, see pages 15-20 and visit crossroads
filmfestival.com.
Email Assistant Editor Amber Helsel with story tips for arts, food & drink, wellness stories, and people to feature for Jacksonians at amber@jacksonfreepress.com. And watch for her novel.
More like this story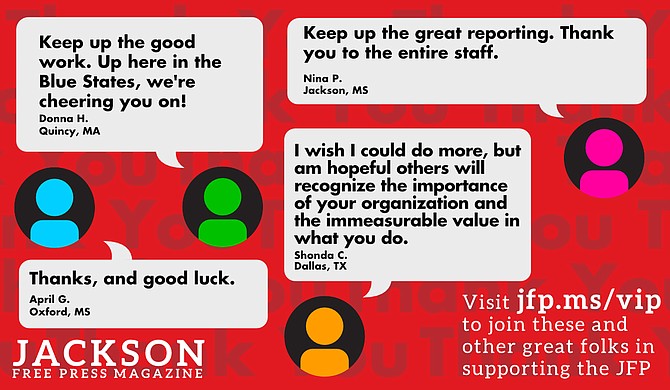 Thanks to all our new JFP VIPs!
COVID-19 has closed down the main sources of the JFP's revenue -- concerts, festivals, fundraisers, restaurants and bars. If everyone reading this article gives $5 or more, we should be able to continue publishing through the crisis. Please pay what you can to keep us reporting and publishing.