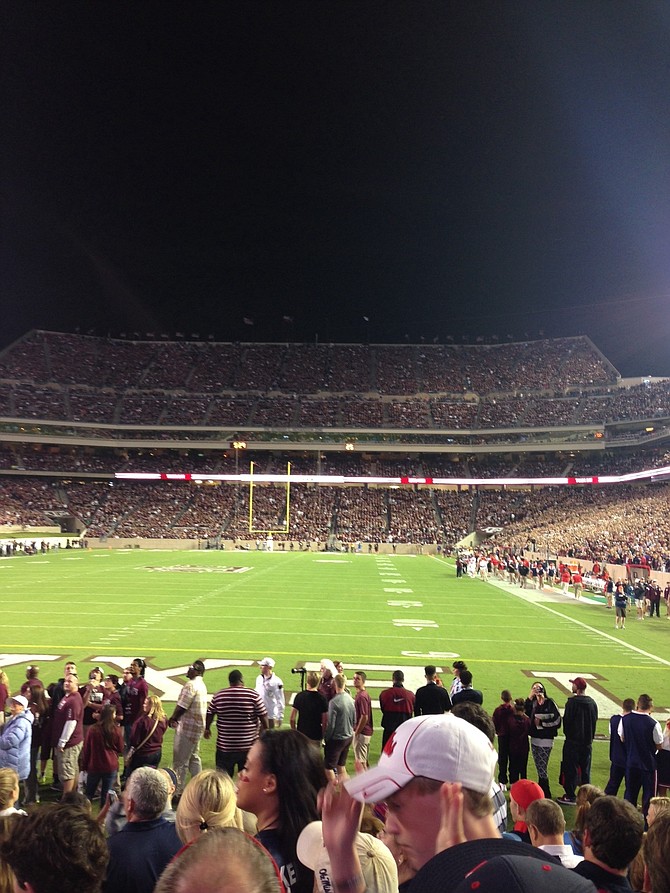 In the South, fall means football. We know that. This year in Mississippi, though, it's especially exciting, thanks to both the University of Mississippi and Mississippi State University's teams having stellar seasons. Having attended Millsaps College for my undergraduate studies and Vanderbilt University for law school, I have no personal allegiance to either, but thanks to my significant other, I am happy to cheer for Ole Miss and travel to road games in fun places.
The fact that this year, those activities have included winning heartily makes it exponentially more fun.
The latest journey took us to Houston for a weekend to see the Rebels take on Texas A&M, and I'm here to tell you that it was a pretty outstanding trip. The only downside was that everything is, in fact, bigger in Texas, which also includes traffic-related issues. The roads were under construction, and Google Maps and Siri remained utterly confounded the entire weekend. Every time we got in the car, we saw road signs that didn't match up with our directions and had to take multiple U-turns.
Directional matters aside, the trip was lovely. Friday evening, we had dinner at The Pass, where we enjoyed an eight-course tasting menu with pairings. At some restaurants, the entire table has to order the same menu, but we were able to do one of each pairing, which let both of us get what was right for us. I went with wine, and my companion went with cocktails, which also included a sour beer for one of his courses. I was able to snag a sip of that, and, even though I don't typically drink beer, it was really interesting. I liked the vinegary taste, and it paired well with the food. Perhaps Lucky Town Brewing or another local craft brew outlet will produce a sour soon.
On Saturday, because the game wasn't until nighttime, we had time to brunch and explore a bit, so we headed to the Menil Collection to take in some art. The space was great, the collection was impressive, and the current exhibit on Mahatma Gandhi was powerful. The Surrealist pieces on display were fantastic. It was interesting to see a space dedicated not only to the works themselves, but to objects that Surrealist artists collected, such as African masks that inspired their pieces. Being able to put things in a context like that leads to a deeper understanding of the art itself, I think. And it's a free museum, which is always a plus.
Adjacent to the museum space is Rothko Chapel, which I also wanted to see (I'm a big fan of Mark Rothko). We only saw it briefly, but it was a wonderful space to pause for some quiet reflection. Then it was time for a little pre-game nosh and drink at a neighborhood bar before hitting the road to College Station.
I'll confess—choosing my wardrobe for this game was a bit of a challenge, as the weather report predicted rain and heat. As a result, I settled on a leather-free ensemble (unusual for me during the fall), with a one-shouldered top, gold jeans and sensible (for me) four-inch booties. Turns out, I should have gone all Leather Tuscadero. It was cold and not rainy at all; I had to break down and buy a long-sleeved A&M shirt at the stadium, and then felt embarrassed to be wearing the wrong team's garb. Luckily, my shirt didn't jinx the team.
The crowd—110,000 of our closest friends—was incredible. And though the A&M folks did start to leave at the end when the Ole Miss victory was clenched, they generally remained impressively enthusiastic and spirited the whole time. Their fans and the band—we interacted with several members on the way out—were really nice and polite, and all in all, the experience was great.
The Ole Miss defense, in particular, just blew me away, and I was so, so glad to have seen such a great game in an unbelievable and historic season.
I know it was a great weekend for State fans, too, and I can't wait to see what the rest of the season holds for both Mississippi schools. In the end, I think the successes of the football teams this year are great for our state. While I'll be saying "hotty toddy," I'll also cheer for Mississippi as a whole. Here's to finishing the season strong, y'all.
More like this story
More stories by this author
Like independent media outlets around the world, the Jackson Free Press works hard to produce important content on a limited budget. We'd love your help! Become a JFP VIP member today and/or donate to our journalism fund. Thanks for considering a JFP VIP membership or one-time support.