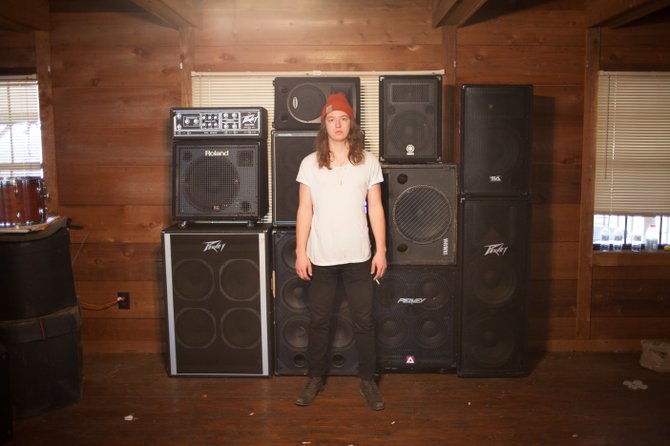 Hailing from one of the South's growing music cities, Bass Drum of Death has been making a name for itself since releasing its first album, "GB City," in 2011. Bass Drum of Death began as a solo project from guitarist John Barrett, who has lived in Oxford, Miss., since he was 7 years old. He studied at the University of Mississippi for about a year and a half, but dropped out in 2008 when he got more serious about making music. At that point, he had already been making music under the Bass Drum of Death moniker for about a year.
Barrett embarked on his first major North American tour as Bass Drum of Death with drummer Colin Sneed in 2011 and also saw commercial success with his music. The 2012 film "Ghost Rider: Spirit of Vengeance" featured "Velvet Itch," the video game "Major League Baseball 2K12" features "Get Found," and the album's opening track, "Nerve Jamming," is on an episode of the BBC series "Waterloo."
Last year, Bass Drum of Death released a self-titled LP, its second full-length album. Two songs from that album, "Bad Reputation" and "Crawling After You," have since been featured on video games.
Barrett is working on several projects now, including a 250-press cassette tape compilation for Record Store Day 2014 benefiting MusiCares, a program through the Grammy Foundation that focuses on human-service issues. Barrett is also working in more of a band format than ever before with Bass Drum of Death; drummer Len Clark, previously of Colour Revolt, and guitarist Josh Hunter perform with him. The garage-rock outfit will play in Jackson for the first time in three years this weekend.
I spoke with Barrett by phone about Mississippi life, his new song, "Black Don't Glow," and going into a real studio for the next album.
You've been touring a lot all over the country and have made friends with bands like Black Lips and Best Coast. Do you feel more connected to the national rock scene, or do you still feel rooted in Mississippi? I'm really close to all of my friends from Oxford who make music, so I'm still very much rooted here. But in having traveled a lot and playing different festivals, you end up making friends with other bands and keeping in touch and touring with people or running into them here or there. I guess it's a little of both.
Why did you decide to stay in Mississippi? Basically there's no good reason to go anywhere else at the moment. It's a nice place to come home to and chill. It kind of keeps me out of trouble. If I lived out in New York and L.A., I would find some sort of trouble to get into instead of staying focused and getting stuff done. I mean, I've found plenty of trouble to get into in Oxford as well; it's just cheaper to live here, so maybe I can justify it more.
I saw you tweet something about a record review. Why do you read your own press, unlike other artists who claim not to Google themselves?
It's only natural when you put something out there to want to hear feedback. It might be a glutton for punishment sometimes with the bad ones. Some of them raise pretty good points. Also, since Mississippi is pretty isolated physically, It's one of the ways I can look to see if we're still connecting with people, whether it's good or bad.
Let's talk about your new song, "Black Don't Glow," and the upcoming compilation tape it's on, which features only Oxford-based artists. How did that come about?
David at the record store, The End of All Music, had the idea for it and approached me, and I said, "Yeah, sure." I've been pretty deep into the recording demos process for my next record, and this was one of the ones that I was like "done," and I finished. So it just so happened that it worked out well since we're about to start a tour so we could put it up on the website and have a new piece of content for people to listen to before we go out.
Do you have details for when you're going to be going to record the next album?
We'll be recording all of March. We'll be doing two weeks out in Sonoma County, California, at this studio called Prairie Sun, and then this guy whose producing the album will be doing a week of mixing in New York. It probably won't come out until the fall.
Why did you pick this studio?
Basically, the guy who's producing the record for us (has) done some work there before, so we were able to get a pretty good rate. It's got a Neve console, which is a pretty big deal. There aren't many of those, and they sound pretty amazing. We can record drums straight to tape. Plus it's a pretty cool spot: It's a ranch in the middle of California wine country. It's where Tom Waits did "Bone Machine" and "The Black Rider." There's a lot of history there and a lot of great sounding rooms. Plus, I've done two records in a row by myself in my house, so I figured it would be good to go away somewhere badass that we could be stoked about and hopefully come out with something good.
Who is the producer for this album, and how did you meet him?
Well, it's Jacob Portrait. He plays bass in Unknown Mortal Orchestra, and he's also done some records for his band called Blouse and his band called Wampire out of Portland. We've toured with Unknown Mortal Orchestra a couple of times, so I've known Jake for a few years. We've always talked about doing something recording-wise since when he's not playing with them that's what he does—make records. So we toured with them last summer and started talking with him more seriously. (We) made out some dates, and it all ended up working out.
Is BDoD still a solo project at this point, or do all these other collaborators make it more of a band?
I never really wanted it to be a solo project, but I think for the last two records it definitely has because I've done all the recording and writing and performing on the record myself. And now, with Len playing drums, Len's coming in and helping out with the writing process a little more. And me and him are going out to record and make the record. This record is more of a band thing than it has been in the past, for sure.
Do you think this next record will sound more polished and less lo-fi than your past releases due to the new studio environment?
It's hard to say right now. I think it'll definitely be better mixed. I think doing it in the studio it will be more polished, but I still want to keep that element of grit and nastiness that I have with the home recordings. I just want everything to be in its right place and everyone be able to hear everything and some of the stuff you lose at home. I don't know if polished is the word I would choose. I would choose bigger, like I just want everything to sound bigger.
Bass Drum of Death performs at 10 p.m. Feb. 8 at Martin's Restaurant and Bar (214 S. State St., 601-354-9712). Spacewolf and Passing Parade also perform. To stream "Black Don't Glow" and to keep up with the latest Bass Drum of Death news, visit bassdrumofdeath.com.
More like this story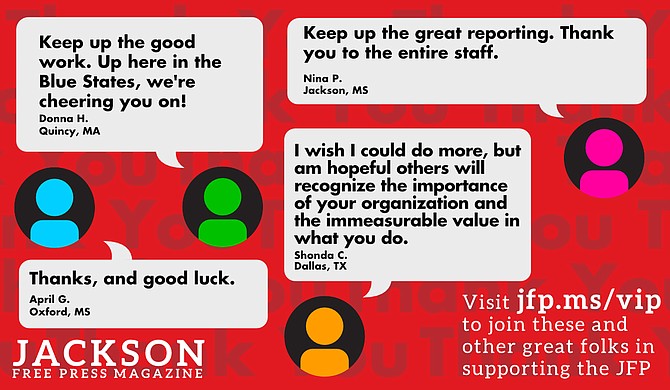 Thanks to all our new JFP VIPs!
COVID-19 has closed down the main sources of the JFP's revenue -- concerts, festivals, fundraisers, restaurants and bars. If everyone reading this article gives $5 or more, we should be able to continue publishing through the crisis. Please pay what you can to keep us reporting and publishing.