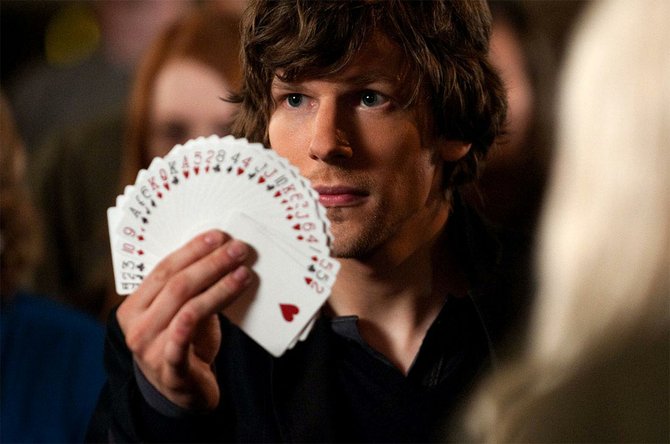 "Now You See Me" is a Robin Hood tale, if that's what you call four magicians robbing banks, safes and rich people to give the money to their audiences.
The four illusionists--Daniel (Jesse Eisenberg), Henley (Isla Fisher), Merritt (Woody Harrelson) and Jack (Dave Franco)--are brought together by a mysterious man. One year later, they perform their first magic act together in Las Vegas as the Four Horsemen. Cynical FBI agent Dylan Rhodes (Mark Ruffalo) and Interpol Agent Alma Dray (Melanie Laurent) try to hunt them down and put them in prison, while Thaddeus Bradley, a former magician and host of a magic-exposing TV show, tries to reveal the secrets behind their tricks.
The film mostly follows Rhodes and Dray in their quest. The Four Horsemen get a decent amount of screen time, but I wish I could see more of the quartet. I know, I know: The movie is meant to be surrounded in mystery and intrigue, which is probably why they get so little screen time. That way, you don't always know what's happening.
I'm not a huge fan of illusionism. I think the whole idea of magic being fun and interesting died when David Copperfield overplayed it, but the film makes me want to see more. It's fascinating how they pull off this elaborate scheme under the nose of the FBI, Interpol and Thaddeus Bradley.
Rhodes' skepticism was the most amusing element of the film. No matter what happens, he keeps trying to be two steps ahead of four master illusionists. Think about it: An FBI agent who probably couldn't track down a mouse goes after the most elusive criminals in the world. Dray tries to get him to understand that he doesn't have to cling to logic and reasoning and even tries to spark his imagination and wonder with a simple card trick. All he can do is turn into Detective Hulk.
A brief synopsis can't explain the full complexities of the film. It's not just about magicians playing Robin Hood. Their heists and grand schemes are a way to avenge people who have been displaced by the team's benefactor, insurance-giant Arthur Tressler (Michael Caine), but they are also part of the grander journey to join the fabled Eye of Horus, a secret order of magicians.
The legend is what brings them together in the first place. After performing their first acts of the film (where each person's individual skill is highlighted) they each receive a tarot card with the role they will play in the quest and an address to a dusty old apartment in New York City. Although they are reluctant to work with each other to prove themselves to the secretive Eye, they become the Four Horsemen. Their journey includes performing elaborate tricks, such as making a French man appear in a makeshift bank where he thinks he helps them steal money, and faking a horrific car crash and the death of one of the members.
At the same time, a shadowy fifth horsemen lurks around the corner. Who is he--or she?
I found "Now You See Me" to be spellbinding and extremely enjoyable. It's got mystery, magic, comedy--everything I look for in a good film. There's even a little bit of romance in the film, or at least a palpable amount of tension in the air whenever Rhodes and Dray are together.
Unlike a lot of movies nowadays, "Now You See Me" makes you think. You spend the majority of the time wondering what the Four Horsemen have up their sleeves, and if the fifth horsemen actually exists.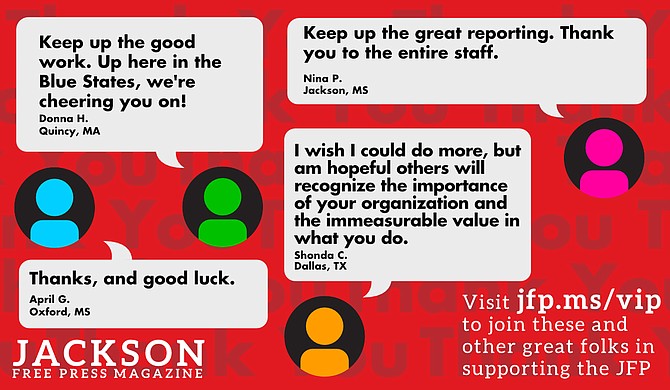 Thanks to all our new JFP VIPs!
COVID-19 has closed down the main sources of the JFP's revenue -- concerts, festivals, fundraisers, restaurants and bars. If everyone reading this article gives $5 or more, we should be able to continue publishing through the crisis. Please pay what you can to keep us reporting and publishing.