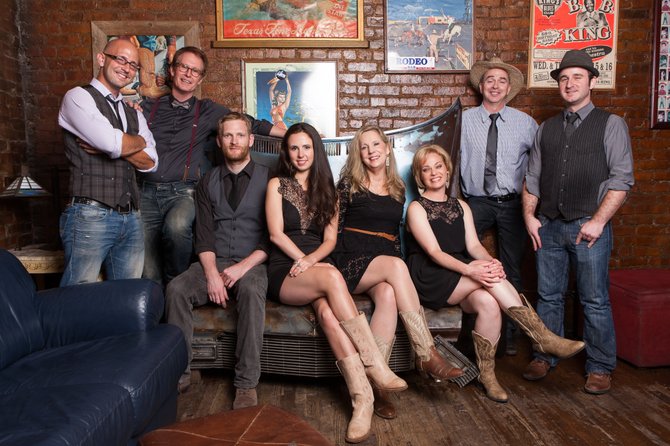 Mississippi girl Annie Chadwick has gone far and done great things, and now she's back for a spell. Born and bred in Jackson, Chadwick of the contemporary bluegrass band, the NYCity Slickers, began her singing career as a child in the choir at Capitol Street Methodist Church.
While attending Provine High School, she also sang in several school theatrical productions. Her first professional performance was with an all-girl group she and her neighbors started called the Petti Coat Minstrels in which she sang and played the washtub base. After high school, she attended Millsaps College where she met her husband and NYCity Slickers co-founder, Faser Hardin. In the 1980s Chadwick and Hardin moved to New York City, where they have lived for 25 years. Their daughter, Abigail, was born there.
When Chadwick moved to New York, she began to act professionally. She played John Lithgow's wife in the feature film "Confessions of a Shopaholic." She also appeared in an episode of "Law and Order: Special Victims Unit," and on soap operas "Guiding Light" and "Another World." When David Spade was the host for "Saturday Night Live," during a sketch she played his sister. She has also performed in several New York theaters.
"If you like to act or are creative in that way, that is something you have to do," she says. Chadwick's desire to act came from watching The Little Rascals. "I remember watching The Little Rascals and seeing Darla and thinking that's what I want to do," Chadwick says. "All of us in the neighborhood, we were inspired and we would go out to the garage and put on shows."
Chadwick and Hardin started the NYCity Slickers in 2007 but did not begin performing professionally until 2008. The NYCity Slickers combines the flavor and twang of Chadwick and Hardin's Mississippi roots with an added contemporary twist, playing music Chadwick describes as "progressive bluegrass."
"We are different from other bluegrass bands in that bluegrass bands are male driven vocally," Chadwick says. Unlike more traditional groups, a trio of women vocalists, including Chadwick, fronts the NYCity Slickers. A five-piece, all-male band backs up the singers tight, soaring harmonies. Chadwick's brother Vernon (aka Varner Stomps) and brother-in-law, Reeves Jones, write songs for the band, helping them stay grounded in their Mississippi roots and heritage. The songwriters, who still reside in Oxford and Canton, send their completed lyrics to the band in New York.
In June, the NYCity Slickers performed in Central Park at the annual Mississippi Picnic in New York. Motivated to improve the image Mississippians have about Central Park and the ideas New Yorkers have about The Magnolia State, the Mississippi Picnic in Central Park was started by a handful of Mississippi ex-pats in 1979. Chadwick has attended the daylong festival of music, southern cuisine and downhome fun, but not as a performer until this year. "It was really exciting to be in Central Park and to have people all over the park hear us, and especially have the Mississippi folk hear us," says Chadwick.
At the picnic, Chadwick and band announced their upcoming "Mississippi Home" tour scheduled for Oct. 6-14. To date, the tour includes performances in eight locations. The band will kick-off the tour in Jackson at Hal & Mal's (200 S. Commerce St., 601-948-0888) on Saturday, Oct. 6. One of two gospel performances will follow on Sunday, Oct. 8, at the First United Methodist Church of Canton (3301 S. Liberty St., Canton, 601-859-4621). The band will round out their time in Jackson on Oct. 9, performing in The Arts and Lecture Series at Millsaps College (1701 N. State St., 601-974-1000). Other stops on the tour include the Southern Cultural Heritage Center in Vicksburg and Ground Zero Blues Club in Clarksdale.
For complete listings and ticket information, go to nycityslickers.com/tour.php.
More stories by this author