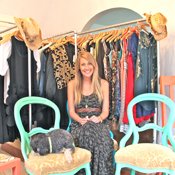 Mary Amelia McRee had been renovating houses in the Belhaven area for several years when a house in Fondren, which had been for sale for a while, caught her eye. Instead of just buying the house and flipping it, she decided to keep it and turn it into a place that would benefit animals in the Jackson area.
"I've always wanted to do something to help a charity--something about animals," she said.
McRee initially wanted to turn the house into a place to help stray animals, but she soon discovered the space would work better for retail. Now, she is turning the house into Fondren Muse, an upscale consignment store that will benefit Community Animal Rescue and Adoption, a no-kill animal shelter in Jackson.
While Fondren "has kind of a consignment-store feel to it already," McRee said she didn't know of any consignment stores in the area that focused on upscale, designer-label clothing, shoes and accessories. Fondren Muse will focus on those types of items, including labels such as Jimmy Choo, Alexander Wang, Kate Spade and Diane von Furstenberg.
Fondren Muse is currently accepting items for consignment, and will split the purchase price 50-50 with consigners. Of McRee's cut, 5 percent will go to CARA, although consigners have the option to donate a portion of their cut to the shelter as well.
While the store's focus is on designer clothing and accessories, "I'll definitely take some awesome vintage stuff," McRee said. She also expects to get some vintage items from her sister, who owns a vintage shop in Austin, Texas.
Fondren Muse will open in its renovated location (3413 N. State St.) later this summer, probably by the end of July. Until she finishes renovating the physical store, McRee is selling merchandise on her blog at fondrenmuse.com. For more information about the store or consignment policies, visit the website, call 601-345-1155 or email [e-mail missing].
Student Art Reception
This Saturday, shoppers at Highland Village will get a chance to purchase students' artwork and raise money for the arts at McWillie Elementary School. Spectacles, an optometry office owned by Dr. Rebecca Patton, will host an art exhibit and reception May 19 at 6 p.m., featuring art by students in McWillie's Montessori program.
Spectacles is located at 4500 Interstate 55 N., Suite 143. For more information, call 601-942-6070.
Free Clinic Gets a Boost from Donors
A clinic that offers free health care for patients who could not normally afford it is expanding this summer. The expansion will double the useable space at the Jackson Free Clinic and include upgrades to laboratory facilities, a larger waiting room and more examination rooms.
The nonprofit clinic has raised $300,000 from donations to cover the cost of construction. Health Management Associates and the University of Mississippi Medical Center's School of Medicine each gave about half the money needed. Richard McNeel and Melissa Edwards at JBHM Architects donated design and planning services, and Ray Floyd of Fountain Construction developed a plan to renovate the facility at cost.
Students from UMMC's School of Medicine staff the clinic under the supervision of physician volunteers. All of the clinic's services are free. For more information, visit the clinic's website at jacksonfreeclinic.com or call 601-355-5161.
Heading South
The Mississippi Development Authority is planning a business-development trip to Buenos Aires, Argentina, and Santiago, Chile, this summer in an effort to connect Mississippi companies with potential buyers in those countries. Participants may be able to receive grant funding for up to 50 percent of travel costs.
The deadline to register is Friday, May 18. For more information, contact Rose Boxx at 601-359-3045 or [e-mail missing].
More like this story
More stories by this author