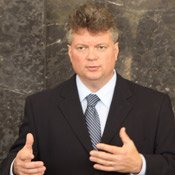 Not too long ago in another state, a high-school boy offered a high-school girl a ride home. He drugged her drink, took nude photos of her and used the pictures to blackmail her into having sex with a series of other men. She wasn't poor, from another country or in foster care; her father was an executive at General Motors.
That girl was a victim of human trafficking.
Human trafficking doesn't just affect women who are kidnapped in Thailand and taken to brothels in big cities; even well-to-do boys and girls can be coerced into becoming victims.
Attorney General Jim Hood's office is cosponsoring a training event today and tomorrow to help prosecutors and investigators respond to human trafficking.
"Like many people, when we first hear about human trafficking, we assume that it means that somehow people are getting young ladies overseas and coercing them or conning them into coming to the United States," he said. Most of the cases he's seen, however, involve women from the United States who were forced into prostitution.
Sometimes the mafia forces people into prostitution, Hood said, although that's not as much of a problem in Mississippi as in other states.
"What we're trying to do is head it off before we have those instances occurring here in our state," he said.
Hood also said there should be more laws that treat young people in prostitution as victims. He wants a law that would require anyone who suspects a person under the age of 18 is a victim of human trafficking to report it as possible child abuse.
"If we see a young person out on the street we think is a runaway, they very well may be a victim of human trafficking," he said. "The problem is, there's no safety net for them. There's very little counseling that deals with the psychological impacts that they've had to deal with. So, you treat them as a victim rather than as a prostitute."
Hood also wants to make it a felony for anyone to pimp someone under the age of 18. Currently, pimping, prostitution or hiring a prostitute are all misdemeanors.
Hood is also supporting bills relating to domestic violence. One would criminalize "indecent assault," or touching someone sexually against their will. Another would allow domestic violence offenders to go into treatment or counseling programs for abusers.
Previous Comments
ID

167113

Comment

Yes they are victims I have never understood a system where a 14 y/o girl can't consent to sex if she's with some boy at her high school whose 17, yet if she's a prostitute and gets arrested she is just that a prostitute. Not a rape victim, not a sexual assault victim, she is just an immoral female, a stupid girl who should've known better. If you ever want to see a good doc about child prostitution in America watch Very Young Girls its on Netflix.

Author

Laurie Bertram Roberts

Date

2012-02-17T20:05:33-06:00
More like this story
More stories by this author