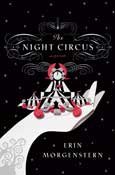 It's not every day that I pick up a novel that surprises me on every level and sets all my senses on fire. But this happened with "The Night Circus" (Doubleday, 2011, $26.95), the first novel by Erin Morgenstern, a quirky and inventive writer who lives in Salem, Mass. (yes, of witch fame), who studied theater and studio art at Smith College.
Maybe all that explains this spellbinding, inventive tale.
It opens with sensual mystery: "The circus arrives without warning. No announcements precede it. It is simply there, when yesterday it was not. Within the black-and-white striped canvas tents is an utterly unique experience full of breathtaking amazements. It is called Le Cirque des Rêves, and it is only open at night."
From there, the circus becomes the main character in a novel where the human characters are seldom what they seem. This circus, you quickly discover, is propelled by magic. Yes, it has contortionists, magicians, fire-eaters and the like—but the kind who actually have to pretend to be pretending.
I first devoured the book due to its ability to create a remarkable virtual world that stimulates on all fronts: visual, smell, sound and, ultimately, a deep, abiding sensuality between a couple who compete through much of the novel in a game that never quite makes sense.
It doesn't matter. It's the journey and the process that matter in this book—or so you think. I got three-quarters through it simply enjoying this ride in an alternative universe filled with painful love: a delightful carnival where two opponents with remarkable powers develop a passion for each other by constantly creating a new circus spectacle more impossible than the last.
The depth of "The Night Circus" snuck up on me as the game it chronicles comes to a climax. I was enjoying the imaginative ride so much that I didn't really need the book to matter. I just wanted to know what was next; it felt like a page-turner dotted with chocolate and caramel and smelling of hot buttered popcorn.
But as the couple locked in a game of someone else's design became more intertwined in each other's fate, I started to get it on a visceral level. It was a story about story: the deep and sometimes dark power of compelling narrative to affect lives and effect change. The book almost ends up begging the reader to "interfere" in others' stories, even as the rules of the circus game say to stay in your own place.
Near the end of the novel, the contortionist-with-a-past, Tsukiko, tells one of the competitors: "Old stories have a habit of being told and retold and changed. Each subsequent storyteller puts his or her mark upon it. Whatever truth the story once had is buried in bias and embellishment. The reasons do not matter as much as the story itself."
I caught my breath as I read those sentences, feeling it more than understanding it. This is a story that earns its moral lessons through, well, pure story. Through its dark appeal, "Night Circus" ends up helping shine a light on the lunacy of wasting one's life and time in search of immortality: "a terrible thing to seek." And, we learn, the circus' magic isn't all one might hope—not compared to the kind we each possess if we believe we do.
"They want to believe that magic is nothing but clever deception, because to think it real would keep them up at night, afraid of their own existence," a man in a grey suit proclaims just before encouraging a young character, Widget, to consider his own particular magic: his talent.
"What is it that you do with that talent?" the man asked.
"I tell stories," Widget answers.
The magic, the man responds, is in the stories, leading into a passion that made this storyteller cry as I read it. "It's in the listener, and for each and every ear it will be different, and it will affect them in ways they can never predict. From the mundane to the profound. You may tell a tale that takes up residence in someone's soul, becomes their blood and self and purpose. That tale will move them and drive them and who knows what they might do because of it, because of your words. That is your role, your gift."
"There are many kinds of magic, after all," he adds.
And then I knew what was special about this crazy circus and its supernatural characters. It was a damn fine story, and that was everything it needed to be.
Erin Morgenstern signs and reads from "The Night Circus" starting at 5 p.m. on Monday, Oct. 3 at Lemuria Books (202 Banner Hall, 4465 Interstate 55 N., 601-366-7619). Call ahead to reserve your copy.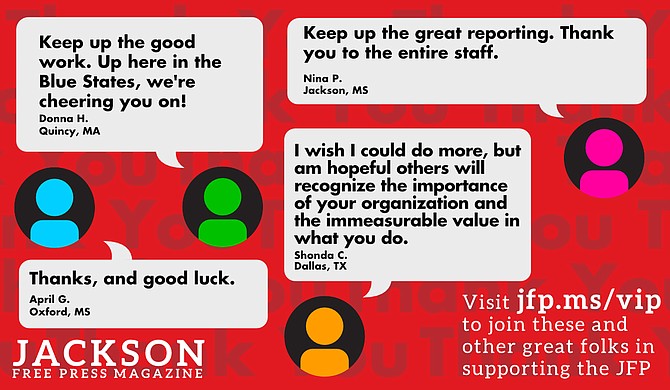 Thanks to all our new JFP VIPs!
COVID-19 has closed down the main sources of the JFP's revenue -- concerts, festivals, fundraisers, restaurants and bars. If everyone reading this article gives $5 or more, we should be able to continue publishing through the crisis. Please pay what you can to keep us reporting and publishing.