Ever since the Jackson Free Press staff gathered for our first all-day strategic retreat in March in the Mississippi State School of Architecture downtown, I've been thinking a lot about our city's creative journey. While prepping for the retreat, I re-read the cause statement we wrote back in 2002 to explain our vision for the paper. Allow me to quote the first section:
"Jackson, Mississippi, has a way of getting under your skin. It has so much to offer: rich cultural diversity, fertile founts of creativity, the friendliness of its natives, its citizens' delight in laughing at ourselves, the incredibly quirky and lovable characters, an addictive sense of place, an impressive track record of institutional change since Jim Crow ended.
"Quality of life can be incredible here: low cost of living; troves of artistic, caring people; music you can't find outside the state; a literary Mecca in the middle of one of the most illiterate states. The city is drawing back more and more of the state's emigrants, like the editor-in-chief of this newspaper. Jackson is the heart of the state's potential, and it is a place where even small efforts can make a profound difference in someone's life."
The truth is: We could have been wrong. Todd and I had been in Jackson for a year, and I had spent little time here since I fled the state the day after graduating from Mississippi State in 1983. We might have been putting on rosy glasses to try to convince people of an optimistic business plan. We could have been allowing an overly romantic vision of the literary south, a la Oxford American magazine, to overshadow the difficulty of turning Jackson (and, thus, Mississippi) into a place where young creatives wanted to stay or move to, rather than escape.
But I'm thrilled to report that we were spot on. We were fortunate to have fresh, unjaded eyes to be able to spot the potential in Jackson, not only for supporting a locally owned, diverse news outlet, but for becoming a magnet for young people wanting to combine their art with making a tangible difference in the world. Of course, we weren't the only ones to notice the sleeping giant, but we were blessed to be a forum where our city could discover the movements propagating right under their noses.
I believed in this vision with every ounce of my being (not to mention every dollar in our bank accounts). But if you'd told me then that a mere eight years later, people living in our bedroom communities would sometimes be defensive about not living in Jackson (rather than the other way around), I would not have believed it. Such a turnabout seemed an impossible goal in 2002.
We spent much energy the first few years trying to reverse stankin'-thankin' on that front: from crime hysteria to outright racism that led people to leave Jackson. I'll never forget an old friend from high school who lives in Brandon asking me "is it safe in Belhaven?" when I lived there. Belhaven? It's not exactly like I was on the urban frontier there.
Today, though, I'm over all that city-v.-suburb chitchat: With Jackson's creative revival, I don't see the need to convince anyone to prefer urban life if they don't already see how cool it is, just as I don't need anyone telling me suburban life trumps the city. We all have different preferences, and frankly now that the metro playing field is more level, it is time to move on from that conversation (like the dinosaur Mac-v.-PC debate the iPod ended).
And there is so much to move on to, as this Summer Arts Preview issue shows. I don't know how else to say it: Jackson is on fire. We are busting out every direction, as you'll read in the June BOOM Jackson magazine, hitting the streets this week (theme: HOT). Young creatives are everywhere, whether it's bodypainting on Millsaps Avenue or holding impromptu performances wherever they feel like it. The energy is contagious; everyone wants to help (like Jim Burwell of Mimi's who is starting the Market at Fondren June 19). The best part is how diverse this artistic movement is, as George Miles explains in his Artist-in-Residence feature this issue. It is also compassionate: Think of the HeARTWorks women we profiled in the 2009 fall arts preview who felt the spiritual call to help homeless people express themselves through art.
Everyone I know who visits from another city is jealous. Maybe they would miss their favorite restaurants or the walking cultures or their jobs in their cities, but they see the passion driving our revival, and they know they are missing out on something special.
Our state may have had a long way to go, but when we arrive, it's going to be with a resounding roar. I've come to realize that what is happening here now and the way it is happening can only happen in Jackson in the heart of Mississippi. Our city and its residents--even the ones who've adopted our state as their own--are the collective product of our painful past. Many are the children and grandchildren of those who caused the pain.
That fact is helping fuel the fervor that is now turning the proverbial water into wine, the toxicity and pain into grace and passion.
When we started the JFP, we had the vague notion that we could help turn Jackson into "the new Austin." For us, that is no longer the goal. Austin is cool, and its turnabout from a boring capital city not long ago to a musical Mecca (with the help of its alt-weekly) is legend. But that was their path; this city is on our own. We don't need to be Austin.
We're not the only ones who have come to this realization, of course. In an interview with Lacey McLaughlin in the new BOOM, Jackson musical pioneer Jamie Weems nailed it when she asked the "new Austin" question.
"I think Jackson is the new Jackson," he answered succinctly and beautifully.
Jamie is right--and precisely because he and so many other determined souls are using their energy to build "the new Jackson." The best part is that this movement is not about one great musician, one artist, one writer, one or another social clique, or even a sassy alternative newspaper. It is about community.
We've watched so many people come through in the last eight years and add a piece or two of the puzzle, building off what previous pioneers (like a Malcolm White, to name just one of many) put into place. Some then move on; many come back. No matter: Our artistic revival is fluid and dynamic.
No doubt: The new Jackson is here. And she ain't going nowhere.
Previous Comments
ID

157962

Comment

Jackson IS. So well said. So well said. :)

Author

J.T.

Date

2010-05-26T12:50:12-06:00
ID

157963

Comment

AMEN! Can't wait to move back "home" in July!

Author

C Myers

Date

2010-05-26T12:52:22-06:00
ID

157964

Comment

OMG....DLadd you got me ready to hit the streets running yelling, "Jackson, Jackson, Jackson!" Thanks for this article, my favorite of your in years, but the subject matter might make me a bit biased. But it just flowed wonderfully with inspiration behind every period. Great job! I'm framing this and guess where I'm putting it!!

Author

Queen601

Date

2010-05-26T13:32:39-06:00
ID

157999

Comment

"The truth is: We could have been wrong. Todd and I had been in Jackson for a year, and I had spent little time here since I fled the state the day after graduating from Mississippi State in 1983." Carpetbagger

Author

DrumminD21311

Date

2010-06-01T23:07:25-06:00
ID

158001

Comment

I know you're kidding, Drummin'. I've been called that by that by haters, though. And you know my response: "My people were born, raised and buried in the red clay of Neshoba County, so screw you." :-P

Author

DonnaLadd

Date

2010-06-02T07:40:57-06:00
ID

158002

Comment

nice, Donna. Community is a good word for it. When I moved here 7 years ago it was the first music scene I'd ever been in where people went out of their way to get you a gig or play a set with you...this is unheard of as normally scenes can be competitive at worst or indifferent at best. here it is all heart & love. MUSIC!!! Maybe the best reason to be here although there are many more. We still have to get the Disco Biscuits, though!;-)

Author

Izzy

Date

2010-06-02T08:10:22-06:00
ID

158004

Comment

Well, I'm only half-kidding. You're a yank coming down here trying to change our ways because you believe yours are superior. 20 years gone is a long time to be preaching right and wrong to us poor backward country folk. You got away to go and have all your fun and live it up while you were young, forgetting about us, and now that you've got it out of your system you're ready to come settle down back at your roots and maybe bring a little goodness back to shine for us and lift our veil of ignorance. That's kind of the definition of a carpetbagger. I am just having a go at ya but I'm only half-exaggerating how I feel in this manner :) Hopefully I will not be deleted forever because of this.

Author

DrumminD21311

Date

2010-06-02T10:49:12-06:00
ID

158005

Comment

You're welcome to your opinion, Drummin, but remember that doesn't mean it's correct. ;-) And I have no need to "delete" you; if you haven't figured it out, yet, I have tough skin. It's when people repeatedly jump on readers or my staff unfairly or in a bigoted way that they're prone to be booted. But that doesn't happen very often these days, thankfully. To your point: If you call celebrating the hard work of people (from Mississippi and newcomers) who are trying to lift Mississippi off the bottom "trying to change our ways," well, you are entitled to think that way. And I never forgot about Mississippi; that's why I came back and, yes, brought a few things I learned (like how to do investigative journalism and throw great parties) with me. And I believe the working definition of a carpetbagger was someone from somewhere else coming in and trying to change things, but I quibble. And let us not forget that some so-called "carpetbaggers" -- you know, like Chaney, Goodman and Schwerner, killed in and by my own hometown -- did help our state tremendously. And for the record, the "veil of ignorance" here and other places isn't so much on the part of citizens; it's due in large part to pitiful media coverage, mostly from media outlets owned or franchised from other states. And by politicians who think Mississippians are too stupid to question them.

Author

DonnaLadd

Date

2010-06-02T10:58:06-06:00
ID

158006

Comment

I can draw an allusion to the white guy that proudly brags to everyone that he is 10% Cherokee. He may be 10% Cherokee, but he is still 90% a-hole!! (disclaimer: joke stolen from Adam Carolla)

Author

DrumminD21311

Date

2010-06-02T10:58:59-06:00
ID

158007

Comment

Drummin, I'm from Batesville, and despite a current one-year stint in Dallas, I've never moved away from Mississippi. I agree with Donna on a lot of things, especially when it comes to the city of Jackson. Am I a carpetbagger? If that's the term for someone who wants our city and our state to be the best it can be, I'll gladly accept the title, and I'm proud to say that most of my friends in Jackson could be called the same.

Author

C Myers

Date

2010-06-02T11:00:06-06:00
ID

158008

Comment

No c, you are not, so don't claim it Carpetbagger definition: In United States history, "carpetbaggers" was a negative term Southerners gave to opportunistic Northerners who moved to the South during the "Reconstruction era, between 1865 and 1877. They often formed alliances with freed slaves and scalawags (southern whites who were Republicans). Together they are said to have politically manipulated and controlled former Confederate states for varying periods for their own financial and power gains. In sum, carpetbaggers were seen as insidious Northern outsiders with questionable objectives meddling in local politics, buying up plantations at fire-sale prices, taking advantage of poor Southerners and pushing their alien Northern ways on Southern politics."

Author

DrumminD21311

Date

2010-06-02T11:05:25-06:00
ID

158009

Comment

[c], you're giving me an idea. I'm going to call myself a neo-carpetbagger going forward. Love it. There could be a t-shirt or a tote bag. Hmmm. Drummin, your comments do make me wonder how you would define a "true" southerner. Is it someone who never leaves and doesn't defy the status quo or work for positive change? That's the impression these posts are giving, but surely not.

Author

DonnaLadd

Date

2010-06-02T11:05:47-06:00
ID

158010

Comment

"Buying up plantations at fire-sale prices" Hmm, King Edward anyone?

Author

DrumminD21311

Date

2010-06-02T11:08:25-06:00
ID

158011

Comment

Sorry, Drummin, I'm a native Mississippi so don't fit the definition right there. And I sure haven't bought up any plantations, fire sale or not. But I have formed alliances with the descendants of freed slaves, as well as southern whites who are Republicans, so I guess you got me there. ;-P

Author

DonnaLadd

Date

2010-06-02T11:08:39-06:00
ID

158012

Comment

That's not how "I" define a "true southerner," but you seem to be echoing the popular sentiment. I'm just playing devil's advocate as always.

Author

DrumminD21311

Date

2010-06-02T11:09:46-06:00
ID

158014

Comment

Actually, I don't believe in either stereotype -- that of the ignorant southerner or of the pushy carpetbagger. I try to avoid stereotypes in general, and I find that devil's advocacy tends to be a waste of energy when there's so much to get done in the world. But each to his or her own.

Author

DonnaLadd

Date

2010-06-02T12:42:03-06:00
ID

158015

Comment

Devil's advocacy is a tool for change. Professors do it in their classrooms on a daily basis. I partly owe my atheism to my Bible professor's devil advocacy, true story. I guess it backfired on him. Oh, and you're still a carpetbagger. I mean you fit at least two parts of the definition: "They often formed alliances with freed slaves and scalawags" "pushing their alien Northern ways on Southern politics" You don't have to be "truly" Northern to push alien Northern ways, like common decency, reason and empathy on us.

Author

DrumminD21311

Date

2010-06-02T13:29:46-06:00
ID

158017

Comment

No wait, I don't think it was devil's advocacy, I think it was his cynicism for the Bible. Oh well.

Author

DrumminD21311

Date

2010-06-02T13:34:37-06:00
ID

158018

Comment

I'm having trouble remembering the name of the vertical column in my washing machine that keeps the clothes moving back and forth...what is the name of that thing...? Oh wait, it's called an agitator... Don't know why that popped into my head.

Author

C Myers

Date

2010-06-02T13:38:41-06:00
ID

158019

Comment

Yeah, you know who else has been called an agitator? Martin Luther King, Abraham Lincoln, Martin Luther (the first one), Patrick Henry, Gandhi, Jesus...

Author

DrumminD21311

Date

2010-06-02T13:52:24-06:00
ID

158021

Comment

Hey, guess what.....JACKSON IS THE NEW JACKSON!!!! Carry On!

Author

Queen601

Date

2010-06-02T14:13:58-06:00
More like this story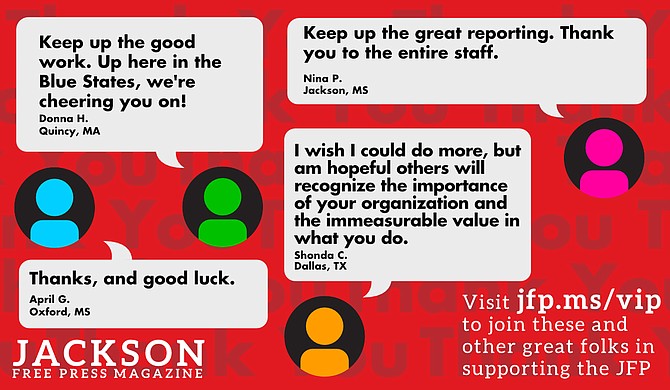 Thanks to all our new JFP VIPs!
COVID-19 has closed down the main sources of the JFP's revenue -- concerts, festivals, fundraisers, restaurants and bars. If everyone reading this article gives $5 or more, we should be able to continue publishing through the crisis. Please pay what you can to keep us reporting and publishing.