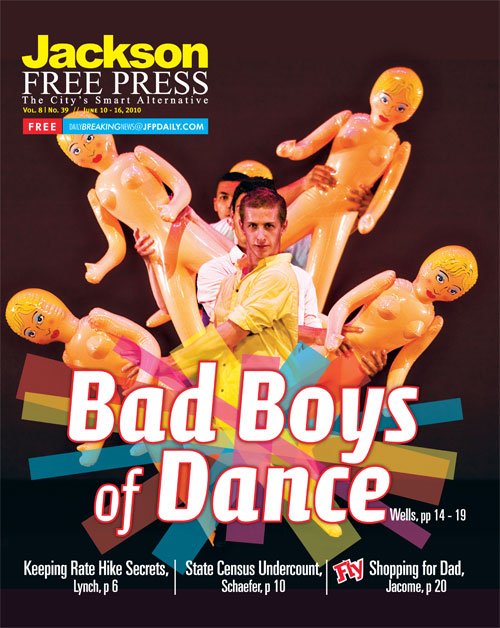 Six shirtless men bolt onto the stage with fierce precision and boyish grins. They dance to a Prince tune, one leaping as high as the top of a door, another spinning gracefully over and over again, and another kicking his legs apart and together like scissors. They do it all with swashbuckling charm. The crowd screams and begs for more. This is ballet.
The Bad Boys of Ballet will open the USA International Ballet Competition with this contemporary dance performance June 12 in Thalia Mara Hall.
"It's a new package for a younger generation. We're taking a page from the boy bands," says Bad Boys founder and director Rasta Thomas, 28.
It won't be his first visit to the IBC in Jackson. He won a gold medal in the 1998 competition.
"I was called a bad boy for not joining and sticking with one company," he says by cell phone during a short lunch break. He's busy getting his troupe off to Australia for the "Rock the Ballet" tour, a program he put together with his wife Adrienne Canterna. They will fly into Jackson from down under to perform at the IBC opening ceremonies, and then they are headed back to Australia. It's that important to him to come to Mississippi from the other side of the world.
"Performing at IBC is like coming full circle for me," Thomas says.
International Intrigue
Sue Lobrano, IBC executive director, counts on the Bad Boys' sex appeal to attract a crowd to this year's performances. The pop music, the young men, the wild energy might generate more than ticket sales. For a first-time visitor to a ballet performance, it could open the mind.
At the last IBC in 2006, about 40,000 spectators bought tickets to different performances. Lobrano says the IBC decided to keep ticket prices at the 2006 rates.
The competition is a quadrennial event like the Olympics. Every four years, a professional panel chooses about 100 of the best young ballet dancers in the world to come to Jackson to prove they belong in the elite class of medalists. Half the competitors are men.
This is the ninth competition in 31 years. The first competition was in 1979.
"In the beginning, we had to do quite a bit of explaining: 'Why Jackson?'" Lobrano says. "We don't hear that question too often any more."
It's an enormous task to put on a show for the world. Lobrano does it with a staff of 14. She has four full-time workers. About 18 months ago, she started adding contract employees. The employees manage the details of checking applications, planning ancillary events and workshops, and communicating with technical directors and stage managers. They work closely with the city of Jackson to plan events.
"One morning, the city will wake up and see international flags hanging," Lobrano says. That marks the beginning of the international intrigue on Pascagoula Street.
Too Old At 25
Dustin Layton, 20, wraps a green crocheted scarf around his neck before heading to the barre in sweatpants and legwarmers. With his chin up in the air and his blue eyes staring dead ahead, he spends the next 30 minutes stretching, bending, swaying and kicking, all in time with the music.
He does this and much more every day. Layton dances five to eight hours a day depending on his performance schedule. As a professional dancer with North Carolina Dance Theatre, he still has to go to class, practice, stretch, rehearse, perform and sweat. He stops his barre work to look at his foot.
"I busted out my shoe," he says. He scowls like Elvis, changes the music and returns to the barre to sweat some more. His T-shirt is wet. He goes through six or seven T-shirts a day. The thermostat in the studio is at 80 degrees.
"It is hot ballet—like hot yoga," Gwen Layton, his mom, jokes. She is sitting on the sidelines in a folding chair. She knew her boy had a dancing ability when he was 4. She asked her daughter's dance teacher if he could join the class.
Dustin Layton, who grew up in Mize, is home in Mississippi for only one week, practicing for an upcoming performance in Hattiesburg. As soon as the show is over, he's headed back to North Carolina to rehearse for his company's June performance in the Kennedy Center in Washington, D.C. That means he will miss all of the IBC action.
But it was an IBC experience that led to his professional career as a dancer. When he was 12, he took a class offered in conjunction with the 2002 IBC. He met David Keary, artistic director of Ballet Mississippi and won a scholarship to study with Keary. When Layton was 16, he hurt his back and couldn't compete in the 2006 IBC. This year, his contract strictly requires him to return on time and perform with his company.
"He has one more chance when he's 24," his mom says. After the 2014 IBC, he'll be too old to compete.
For the Hattiesburg performance, he dances the role of Prince Charming in "Cinderella." His partner for the show is Annie Cannon, a professional ballet dancer from Hattiesburg who is also home for the guest gig. She's been dancing in Miami, Fla., and in May, she signed a contract to dance with Israel Ballet. Now an international artist, Cannon will be moving to Tel Aviv this summer and tour with the company throughout Europe and the Caribbean.
Delicate and petite, Cannon still has to lose two pounds before she leaves for Israel. She doesn't give her age out. She finished high school only a few years ago, but she won't share her age. She's uncomfortable talking about it.
"Don't put your age on your resume," she warns Layton.
"Oh, yeah?" he asks.
"It's illegal for them to ask. Once you hit 25, they won't even look at you," she says.
She shakes her head slightly as if to get rid of the age vibe before rehearsing the highlight of the upcoming performance.
They practice the pas de deux of Prince Charming and Cinderella in front of a long wall of mirrors. They step with pointed toes first and put on regal expressions. They glide together, move apart, then return to a classic embrace. He offers her support as she pirouettes rapidly in a tutu that spins like a buzz saw. He stands the perfect distance away to protect himself but support her spin. He lifts her and the coarse netting of the tutu is in his face. Up close it looks uncomfortable. Sitting in the audience, all that will show is the poise, confidence and effortless appearance of perfection.
Layton has had his share of work-related injuries. He's thrown his back out, sprained his ankles and slipped on too-slick floors. Once while dancing the role of the Snow King in "The Nutcracker," his kneecap popped to the side while he was dancing on stage. He still had to dance the Cavalier role with the Sugar Plum Fairy. He got his knee working and finished the entire performance.
"Most people don't know the magnitude when we are hurting. We don't want people to see pain on our faces. We are using muscle groups most people don't know exist," Layton says.
It's not just hard physically to dance ballet. "It's intense, the stress," he says. "It's impossible to be perfect, but every day you try to be perfect. And you are told how you are not perfect. It's impossible, but that's what you work for. Some dancers look in the mirror and ask 'What's wrong with this?' It takes a toll. It depends on how you were raised. I stay positive."
He takes a sip from his water bottle as he looks off in the distance.
"At no point should we stop working," Layton says. "Even when we hit 40."
'Not a Sissy Art'
David Keary, 52, has had an extensive career in ballet. He attended the prestigious School of American Ballet in New York City, became an apprentice with the American Ballet Theatre, also in New York, and matriculated into the company as a professional. This is when George Balanchine was running the company, and ballet was suddenly and wildly popular.
Keary will be teaching again this year at the IBC summer school that runs concurrently with the competition. More than 100 pre-professional students will attend. About 16 boys from all over the United States are coming. None of them are from Mississippi. Keary wishes it were different.
"Here's a paradox," he says. "I ask people, 'Why is it OK for little girls to play soccer and not OK for little boys to dance ballet?' You wouldn't believe the looks I get."
Keary has been artistic director of Ballet Mississippi since 1994. Born in Natchez, his family moved to Jackson when he was 2. His dad was a musician and his mom was deeply involved with little theater. At 7, he started dancing with the Jackson Ballet Guild. That year, a professional dancer came to town. The man had been a Marine and a boxer. He was the most athletic looking man the boy had ever seen. He wanted to be that athletic.
As a teenager, he studied with Thalia Mara, who came to Mississippi to turn the ballet guild into a professional company. She later hired Keary as the first paid professional male ballet dancer in the state. The first paid professional woman in the company was Kathy Thibodeaux, Ballet Magnificat! founder and director.
While they were close, Mara and Keary sometimes had a turbulent relationship.
"I wanted to expand my wings; she wanted me to stay here," he says.
He expanded his wings in 1978 and went to New York City where Balanchine and the ballet world noticed him.
"It was an ideal time," he says. "The '80s was the ballet boom."
With the defection of ballet dancers like Mikhail Baryshnikov from the Soviet Union in the 1970s, interest grew in mainstream America. New dance companies formed. Old companies grew. Keary says a lot was different then.
"Dance was not gymnastic and athletic; it was more artistic. It wasn't about how many pirouettes you can spin out or how high you can jump," he says.
This is an ongoing debate in the dance world: Is ballet an athletic event or is it an artistic expression? Some say it's both. Others say it depends.
"Even as artistic as ballet is, it is athletic, but the athleticism was there to support the music, the drama, the motif. It was never there to supersede that but to support it," Keary says.
He disdains the "flipping and flopping" he sees in some performances that are mere tricks and do nothing for the story or the choreography.
He remembers a time when a college football star came to work out with him in the dance studio at the request of a mutual acquaintance.
"In half an hour, he was dripping wet. He was blown away. He had no idea how demanding it is," Keary says.
"This is an athletic art. This is not a sissy art, not a feminine art. It's not about sexuality. It's dance."
When Thalia Mara first came to Jackson in 1975, she was surprised that her dance students wouldn't come to Friday night class. That had never happened to her before. It was a bit of culture shock to learn that football came first.
"It was clear to her the impact of sports here," Keary says. She saw the opportunity to create support for the new Ballet Mississippi company by tapping into the sports mentality of Mississippians. She proposed an Olympic-style event that would put Jackson on the map as the ballet mecca of the United States.
Mara held the first IBC in 1979. The competition has always been a separate entity from Ballet Mississippi, although the connections remain close.
What IBC brings to Jackson are some of the greatest dancers in the world at their peak who wouldn't be seen here otherwise. Once they are under contract, their directors rarely let them perform elsewhere.
In the 1980s, Keary had an accident that led to surgery on his ankle. He sat on his bed in New York and stared down at reality. "I thought, 'Good Lord, I'm 25 years old.' It hit me: I wasn't going to be able to do this forever," he says.
He started taking college classes and came home to Jackson to finish his undergraduate degree in English at Millsaps in 1990. He then went on to law school at Mississippi College. He didn't really leave dance. He still taught classes and danced guest gigs. He just needed a break from the intense devotion ballet required.
"I danced for 15 years—hard. I was tired. I needed something different," he says.
After he had received his law degree, some of the board members of Ballet Mississippi offered him the job of director. He did not want it.
"It had problems, and I didn't know if I wanted to commit my time to that."
Wanting to be supportive and positive, he agreed to help out on a few points. Before he knew it, he found himself on the board. He learned the company was $50,000 in debt and couldn't sustain itself. It was just a few months before the board made him president. He made the hard choices. He scratched the performance part of the company and insisted that the board focus on the school.
"I felt responsible, so I stayed on," he says. "I didn't create the problem, but I was the one there when it had to be fixed. I grew up in this organization and was asked to fix it."
Keary says it would take $2 million to run a professional ballet company. While Ballet Mississippi still has a strong support base, Keary has a hard time getting people to understand that they should put their money into a school that trains professionals. In scary economic times, people fear letting go of their money. Keary sees a lot of that.
It takes eight years to properly train a ballet dancer. That is, it takes eight years to train a focused and determined dancer.
"We don't have children coming into the arts focused on one thing. The culture has turned upside down. Their brains are all over the place," he says. "We need to dig deep about how we are educating our youth. I don't see detailed attention to what they are doing. They've got to have fire in the belly."
Instead, Keary says he sees students who are torn between cheerleading, soccer, socializing and this moment's latest text message. "You can't do five other things and do ballet," he says. "It takes a commitment of intellect, energy and deep love."
The first time Mara had Keary dance the role of the evil owl-man Von Rothbart in Tchaikovsky's "Swan Lake," she had Keary go to the library and check out several books on birds. He studied pictures of birds in flight. Ballet, he says, requires self-study outside the studio.
"Everyday I go into class always looking and thinking how can I make this come alive and get into their minds and bodies," he says.
"The life of a dancer is hard. It's not a lucrative thing, either. It can be, but for most it's not."
Even though more boys are in ballet now, demand for male dancers in professional companies remains high. Keary recently got a call from a company asking if he knew of any young men dancing. Most male dancers in the United States come from the Northeast and the West Coast.
The first ballet Dustin Layton danced with Ballet Mississippi was "Swan Lake." He also remembers dancing in "Giselle" under Keary's direction.
"He's opening people's eyes to classics and even bringing in new choreographers," Layton says.
"I know in my mind he is the reason I am a professional. I didn't know you could do it as a profession. In addition to his training, he's a smart dude. When I have a problem, I'll shoot him an e-mail. As a mentor, he's fantastic."
A World Event
Since Louis XIV ruled France as the Sun King, dancers have been perfecting or trying to perfect the techniques of ballet. Some changes creep in resulting in differing styles, but at the heart of all ballet is the basic technique. Even Rasta Thomas says his Bad Boy choreography is a fusion of ballet with pop culture, a hybrid that emerges from 300 years of technique.
For all the spunk and attitude the Bad Boys of Dance will bring to Thalia Mara Hall June 12, the IBC remains seriously concerned with the strictness of classical ballet. All competitors will perform pieces from well-known standards. Judges will watch their technique and musicality along with the right expressions at the right moment.
The competitors come from 38 states and nine foreign countries. Among them are the future dance stars.
"For two weeks, all these people are right here," Lobrano says.
The stakes are huge. Besides the honor of winning and the unusual networking opportunity in the small world of professional ballet, several ballet companies will award contracts to those who place. In such a competitive field, the chance of landing a paying job is the real prize.
And for Jackson, the prize is the reputation of hosting a major world event in
the arts. At a time when the city is experiencing a downtown renaissance fueled by young creative professionals, Keary sees opportunity for the ballet, the symphony, the opera, the museums—all the arts. He says for the past 60 years, these older arts organizations pioneered the way for the energetic endeavors that now attract people to live and play downtown. It's the definition of quality of life.
"I love Jackson. I always have," Keary says. "I want it to grow, develop and keep this energy. Ballet Mississippi is not going to bolt from downtown."
The 2010 International Ballet Competition
The opening ceremony for the 2010 International Ballet Competition kicks off Saturday, June 12, at 7:30 p.m., with a performance by the Bad Boys of Ballet at Thalia Mara Hall. Round one of the competition begins Sunday, June 13, at 2 p.m., and competitive rounds conclude Thursday, June 24. The IBC awards gala is Saturday, June 26, at 7 p.m., with an encore presentation Sunday, June 27, at 7:30 p.m.
Additional dance performances, workshops and other events are scheduled throughout the competition and at various venues in the city.
Tickets for individual competitive rounds start at $7 each, or you can purchase a package ticket for all performances starting at $231. Tickets for the awards gala must be purchased with all three Round 3 performances. For more information and to purchase tickets, go to http://www.usaibc.com.
Tickets for the following performances are only available by phone at 601-973-9249.
Philadanco Performance, Thursday, June 17, 7:30 p.m., $10. The Philadelphia Dance Company, Philadanco, has danced its way into the hearts of America with superlative technique, well-trained dancers and an exciting repertoire of choreography for 40 years. Critics describe Phildanco as "a dance company so electric that they make you want to jump up and jump in."
Edward Stierle Contemporary Showcase, Sunday, June 20, 2 p.m. at the Belhaven University Center for the Arts (835 Riverside Drive), $5. A benefit for Dancers Responding to Aids, the showcase allows IBC eliminated competitors to present contemporary works prepared for later in competition. Brooklyn Mack, USA IBC 2006 medalist will be the guest artist.
Grand Prix Ball, Saturday, June 26, following the IBC Awards Gala Performance, 9 p.m., at the Mississippi Museum of Art, $70. This party sizzles with an elegant setting, an orchestra, dance floor and delicious food.
For a complete schedule of events, more information and to purchase tickets, go to http://www.usaibc.com or call 601-973-9249.
Previous Comments
ID

158158

Comment

You mean to tell me that there's an article here about shirtless men and no one has posted anything yet? What is the deal? LOL

Author

LatashaWillis

Date

2010-06-11T09:45:10-06:00
More stories by this author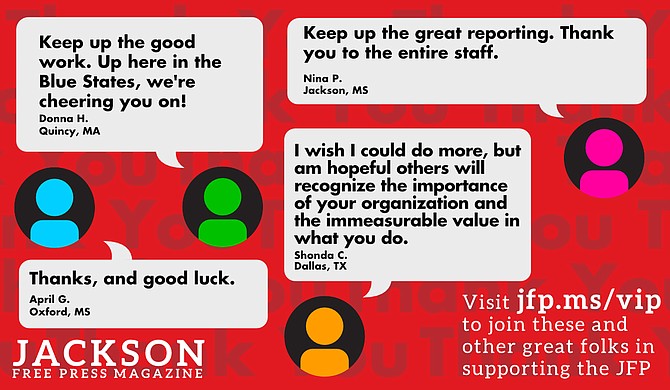 Thanks to all our new JFP VIPs!
COVID-19 has closed down the main sources of the JFP's revenue -- concerts, festivals, fundraisers, restaurants and bars. If everyone reading this article gives $5 or more, we should be able to continue publishing through the crisis. Please pay what you can to keep us reporting and publishing.