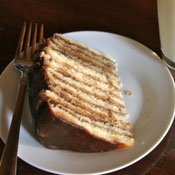 Summer is full of occasions to get together: a backyard barbecue here, a potluck there, your third step-cousin twice removed's 29th birthday (for the fourth year in a row). It seems people are always clamoring for your time, your attention and your culinary contributions.
What can you bring to the table that's a little more interesting than yet another tub of potato salad or a Jell-o mold decorated in the shape of an American flag?
My choice: a giant, delicious stack of pancakes.
OK, maybe not actual pancakes. Maybe a cake of many tiny layers with icing drizzled over it so that it looks just like a tall stack of IHOP's finest.
Maybe a cake of with a truly impressive 14 layers.
On the outside, this cake looks utterly modest. It's rustic and obviously homemade. But cut it open, and you'll see jaws drop.
This particular cake is a bit less sweet than average. It's more like a spongy ladyfinger than any cake you'll find at a grocery store bakery or made from a mix, but it balances well with the abundance of icing, and you won't to go into a diabetic coma after the first bite.
Chocolate Icing Glaze
3 cups sugar
1/2 cup unsweetened cocoa powder
1 cup (2 sticks) unsalted butter, cut up
1 can (12 ounces) evaporated milk
1 tablespoon vanilla extract
In a large heavy saucepan, bring butter, sugar, milk and cocoa to a full boil. Reduce to medium-low and cook until the icing thickens slightly, which should take about three minutes. Stir in vanilla, and allow to cool until thickened but still easy to pour.
14 Layer Cake
5 cups all-purpose flour, sifted
1-1/2 teaspoons baking powder
1/2 teaspoon salt
1-1/2 cups (3 sticks) unsalted butter, at room temperature
1-1/2 cups granulated sugar
1 cup brown sugar, tightly packed
6 large eggs, at room temperature
3-1/4 cups milk
1-1/2 teaspoons vanilla extract
1-1/2 teaspoons butter flavoring
Preheat oven to 350 degrees. Line the bottoms of 8-to-9-inch round cake pans with parchment paper and lightly butter and flour the paper and sides of the pan. (You can bake the layers with one or two standard cake pans, but given the time involved in cooling and washing between each batch, I recommend you purchase several disposable aluminum pans for this process. It will be a huge time saver.)
In a large bowl, sift together the flour, baking powder and salt, and set aside.
Cream together butter and sugar in a large mixing bowl at high speed and continue to beat until well blended. Beat in eggs one at a time, scraping down the sides of the bowl frequently. Beat in vanilla extract and butter flavoring. (Be sure you're using a butter flavoring meant for baking, not a liquid "butter" like the kind you put on movie popcorn.)
On low speed, alternate adding flour and milk until all is incorporated, and beat until smooth, scraping down the sides of the bowl often. If you're using a stand mixer, be sure to scrape the bottom as well to make sure no flour clumps remain.
Scoop a heaping 2/3 cup into each pan and spread into a thin layer, coating the entire surface of the bottom.
Bake cakes for 12 to 15 minutes each in batches, as the size of your oven allows. (My oven allowed me to bake three at a time, so I ended up with four batches of three layers and one of two.) Layers are done when they're spongy but firm in the middle, and will likely develop a few small bubbles resembling the kind that tell you when it's time to flip a pancake. Allow to cool for a few minutes in the pan before inverting onto a rack to cool completely.
Using a cake board is certainly optional, but will make your life much easier (and your cake much easier to move) in this particular situation.
Place a layer of cake on a cake board and place on a wire rack set over a jelly-roll pan to catch all of the drips. Spread with a thin layer of icing and allow excess to drip down the sides, and repeat until you have used all the layers. Pour remaining icing over the top of the cake and run a spatula around the outside edge to ensure the sides are totally covered.
Garnish with whatever strikes your fancy: strawberries, pecans or edible flowers are good choices. If you're looking for a more polished finish, you could also cover the entire cake in a chocolate butter cream before garnishing. Just remember: Butter has a melting point of about 90 degrees and vegetable shortening of 106 degrees, so leaving your beautiful creation in the harsh Mississippi summer sun may leave you with a puddle of icing around the base of your cake. Stick to air-conditioned venues if you go this route.
More like this story
More stories by this author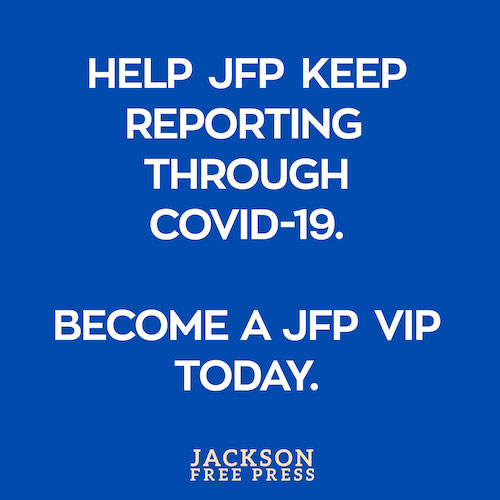 COVID-19 has closed down the main sources of the JFP's revenue -- concerts, festivals, fundraisers, restaurants and bars. If everyone reading this article gives $5 or more, we should be able to continue publishing through the crisis. Please pay what you can to keep us reporting and publishing.