In a widely circulated Weekly Standard profile -- charmingly titled the The Boy From Yazoo City -- Haley Barbour unabashedly praises the Citizens Council in his hometown, calling it an "organization of town leaders," and comparing it quite favorably to the KKK.
Both Mr. Mott and Mr. Kelly had told me that Yazoo City was perhaps the only municipality in Mississippi that managed to integrate the schools without violence. I asked Haley Barbour why he thought that was so.
"Because the business community wouldn't stand for it," he said. "You heard of the Citizens Councils? Up north they think it was like the KKK. Where I come from it was an organization of town leaders. In Yazoo City they passed a resolution that said anybody who started a chapter of the Klan would get their ass run out of town. If you had a job, you'd lose it. If you had a store, they'd see nobody shopped there. We didn't have a problem with the Klan in Yazoo City."
In interviews Barbour doesn't have much to say about growing up in the midst of the civil rights revolution. "I just don't remember it as being that bad," he said. "I remember Martin Luther King came to town, in '62. He spoke out at the old fairground and it was full of people, black and white."
In truth, Citizens Councils were avowedly racist institutions, many of which would do those same things -- fire people, shut down their businesses -- if they hired black workers in jobs "reserved" for whites, accommodated blacks in restaurants or restrooms, or were seen as too liberal on the issue of integration.
A flurry has ensued, with Daily Beast wondering Is Barbour a Racist and ABC's the Note wondering if the campaign is over before it's started.
In the past, Barbour has shrugged this sort of controversy off; this time, he's elected to release a statement on State of Mississippi letterhead clarifying his comments:
"When asked why my hometown in Mississippi did not suffer the same racial violence when I was a young man that accompanied other towns' integration efforts, I accurately said the community leadership wouldn't tolerate it and helped prevent violence there. My point was my town rejected the Ku Klux Klan, but nobody should construe that to mean I think the town leadership were saints, either. Their vehicle, called the 'Citizens Council,' is totally indefensible, as is segregation. It was a difficult and painful era for Mississippi, the rest of the country, and especially African Americans who were persecuted in that time."
Previous Comments
ID

161333

Comment

So, Barbour finally made such a blatant statement that the national media are noticing, huh? I knew this campaign wouldn't last long with his southern-strategy history, but I wasn't sure it would tank quite this soon.

Author

DonnaLadd

Date

2010-12-21T11:58:31-06:00
ID

161334

Comment

The Michelle Goldberg piece has a lot of good stuff to say about this, not the least of which is just to point out something that Barbour has done much of his career -- the question is, this time, is it too much? The piece is an exquisite example of the conservative racial two-step: a blatant expression of racism, followed by aggrieved wailing at the mere thought of being called a racist. It proves that Barbour is either dishonest or so blindly ignorant that one can scarcely imagine how he's managed a successful political career. Barbour has gotten away with the ah-shucks ignorance thing here in Mississippi -- recall that, technically, his "successful political career" is comprised of two runs at governor in his home state. Otherwise he's been a lobbyist and political operative since his unsuccessful run for Senate in the 70s. And then there's this nugget, putting Barbours statement that when MLK spoke in '62, the fairgrounds were "...full of people, black and white..." in just a tad more context: Barbour reports that when Martin Luther King spoke at the Yazoo County fairground in 1962, blacks and whites alike went to see him, though Barbour remained in his car on the rally's outskirts, which suggests that he was there for reasons other than solidarity. No reporter was present to capture this moment of interracial comity, unique in the history of the South. But journalists were there when King spoke in Yazoo in 1966 during a freedom march, pleading for nonviolence while "[n]egroes and whites exchanged gunfire in a town 75 miles away," as one dispatch says. About 100 whites stood, staring, on the gathering's periphery, but the report makes it pretty clear they weren't there to lend their support. So what was Barbour doing "sitting on his car" outside the fairgrounds? He says he didn't actually hear the speech and he was just checking out girls. Getting a clearer picture of this event? The question now is, will he get away with it on the national stage? Barbour is great at being something of a blank slate for conservatives to pin their pet projects to -- on the social front, Barbour isn't overtly religious, doesn't rail much about abortion, drinks openly and with conviction in the national press. In his runs for governor, he's allowed an off-hand comment as a sort of wink to racist groups and their progeny, and so far it doesn't seem to have hurt him. But this mis-rememberance from Haley's hazy youth in the Delta is more than just one of those winks. It's too one-sided and too ignorant to get him a pass from the national media (even if they don't always know what they're talking about). So, he's getting his attention. Good thing or bad thing? Will he turn this into a moment where he's remembered for "handling a crisis well" or has he sunk himself by running aground exactly the wrong reef in American politics?

Author

Todd Stauffer

Date

2010-12-21T12:03:42-06:00
ID

161337

Comment

Since I moved to MS in 2005 I have wondered why have some people over stated Barbour's political reach. Sure, he and his "good ole' boy" ilk will have traction in MS, where the politics are dominated by "Southern Strategy" Conservatives and "De Facto" segregationists. But, on a national scale, where you actually have to woo minorities in an electorate, Barbour would fail miserably, because of his ignorance concerning issues pertaining to and lack of respect for the personhood of poor and minority people. His not so subtle racism has been apparent to me and many other MS progressives for years. Yet, many people are anxious to see him get shown his backside in a national election. Too often I have heard people say that Barbour is most times the "most intelligent guy in the room". I just don't see it. His policies and statements on everything from Katrina-"Anyone looting should be shot on sight"- to the Recession -"I don't believe in raising anybody's taxes"- to education-"Successful school districts shouldn't have to consolidate"-all reek of nothing more that elitist conservatism tossed in with a side of "aw shucks" racism. Mississippians, all Mississippians, deserve much better.

Author

Renaldo Bryant

Date

2010-12-21T14:05:07-06:00
ID

161338

Comment

Well said, Blackwatch. He has made a career out of pitting southerners against one another and saying what too many still want to hear. I think the real significance of this dust-up is that this may be the week that the national media stop adoring him despite his obvious flaws. He apparently loves to give media parties, drink with them and charm them, and they have long given him a pass both in the state and beyond. With any luck, that will stop now. Then again, it may not.

Author

DonnaLadd

Date

2010-12-21T14:09:12-06:00
ID

161339

Comment

With any luck, that will stop now. Then again, it may not. Well he's at the end of his term, so he can't do any further damage - but the ripples he has created in the pond will be felt throughout for a good minute in Mississippi. I think he can make it deep into the primary, will he win the ticket - I doubt it - but he will be a very formidable running mate for someone on the republican ticket. Can anyone say Dick Cheney to the 2nd power? He knows how to raise campaign capital, he's a super duper lobbyist, and back door business broker. In the words of Sun Tzu - If ignorant both of your enemy and of yourself, you are sure to be defeated in every battle.-- Sun Tzu The political climate is just right for him to cause some serious ruckess from the background, without being directly attacked. Say you take Tim Pawlenty as the primary candidate and Barbour as the old wise candidate to a young strapping conservative Northerner? Hmmmmmmmmm - strong possibilities there

Author

Duan C.

Date

2010-12-21T16:52:17-06:00
ID

161341

Comment

Mrs. Barbara Bush gave her candid opinion/feelings about the possibility of Sara Palin running for the office of President, "Let her stay in Alaska." I would like to copy her opinion/feelings about the possibility of Haley Barbour running for the office of President, Let him stay in Mississippi. For the Governor to be so insensitive and ignorant to the condtions of black follks living in Yazoo before, during and even now is at best a disaster! If Barbour were a high school drop-out, I could cut him a little slack; however, this man holds a law degree and knows or shoud know about the many cases of injustices filed in this State. It was Yazoo City, proper where all of the black folks who signed a certain petition during the 60's were fired from their job. If the governor could jog his memory, I am sure that he would recall the names of many of the Citizen Council Members who also doubled as KKK members. ("A Rose By Any Other Name Is.....") Life for Black folks in MS "Ain't been no crystal stair". The Good ol' Boy system continues and without any sophistication.

Author

justjess

Date

2010-12-22T11:30:09-06:00
ID

161342

Comment

Great piece in Salon this morning about this Barbour thing -- What Barbour's Amnesia Tells Us making the point that Barbour seems to have a habit of misremembering these seminal moments in his childhood in spite of the fact that they would have been (a.) some of the most dramatic moments in the history of his small town and (b.) he and his family were a big part of it all. Worth the read. Here's one nugget: The best that can be said about his recollection is that it is not 100 percent a lie -- just deeply confused, mostly wrong, and indicative above all of a cynical man who has made a lucrative career of exploiting racial trauma when it suited him, or throwing it down a memory hole when it did not; which is to say, an archetypal Dixie conservative.

Author

Todd Stauffer

Date

2010-12-22T11:50:00-06:00
ID

161344

Comment

I think you guys should rehash this to refresh some people's memory on the good ol' boy: http://www.jacksonfreepress.com/index.php/print_view/17274

Author

Duan C.

Date

2010-12-22T12:23:15-06:00
ID

161354

Comment

Thanks Haley, for the Southern revisionist history. It probably was not "so bad," esp. when you are on the winning side. The biggest issue in Mississippi is race and almost no one can get by a day without it popping up in their lives. I moved here in 1999. I learned that several decades before when the old Hinds County Library building was built, staffed, and stuffed full of books with taxpayers money, an entire class of taxpayer could not enter the building nor check out a book, Blacks in Hinds County were excluded from using the library, even though they paid for it! Also, until 1971 a commission existed called the Mississippi Sovereignty Commission headed by the Governor that spied on both White and Black folk in the state who were desiring integration. 1971? Are you kidding me? Mississippi has moved beyond that now. All public places in Mississippi may be used by all. A new Hinds County Library was built across the street from where the old one existed. They have Black librarians on their staff. Tension still exists in the state, but as the distribution of wealth, education, jobs, and success come about I am hopeful that the tension will lessen in time.

Author

Turtleread

Date

2010-12-26T15:40:23-06:00
ID

161390

Comment

Great piece on this: NPR interviewed Hodding Carter III about Barbour. I shouldn't give up the most fun quote, when Carter explains his theory on why Barbour said what he did: "Why was he saying that? I think he was talking to a sympathetic interviewer and lost his mind."

Author

Todd Stauffer

Date

2010-12-30T19:02:55-06:00
ID

161412

Comment

There was much press this over the weekend about Haley Barbour and the release of the Scott Sisters. There leaving prison will not be a "pardon" as Barbour did for the murderers after his 1st term in office. ...and the racist, mean spirited, politicizing does not stop: Barbour wants the sister (Gladys) to give Jamie, who is in kidney failure and on dialysis, a kidney. If she does not give her sister a kidney, this will end their chance to get out of prison. This is WRONG!!!! I think that it should be the sister's decision about being a doner. I am also sure that the sister will do this willingly; however, to think that the Governor of this State would place such a stipulation is mind-boggling and also illegal.

Author

justjess

Date

2011-01-04T11:01:13-06:00
ID

161413

Comment

Another consideration is the fact that because Jamie and Gladys are sisters, it does not mean that Gladys' kidney would be an automatic match. Who knows what Gladys' physical status is at this time? This is SICK, SICK, SICK, MEAN and SICK. A decision like this could only come from a person who is without empathy for two women who have suffered too much, for too long and for so little. ELEVEN DOLLARS ($11.00). TWO FIVES AND A ONE. TWO LIFE SENTENCES EACH.

Author

justjess

Date

2011-01-04T11:11:17-06:00
ID

161430

Comment

Both of the Scott sisters should have either received a commuted sentence or a pardon years ago as they were only accessories to the crime and not the main criminals, who left prison decades ago. I believe this just looking at the facts of the case and I am White. This was a complete miscarriage of justice. However, when I go to the Hinds Co. Courthouse to serve on juries I discover that attorneys select biased juries nearly all the time and nothing is done about it. One jury was all female, all minority, and all under 25 years old. Judge did not say a word. Mississippi needs to join some more progressive states.

Author

Turtleread

Date

2011-01-04T15:48:56-06:00
More like this story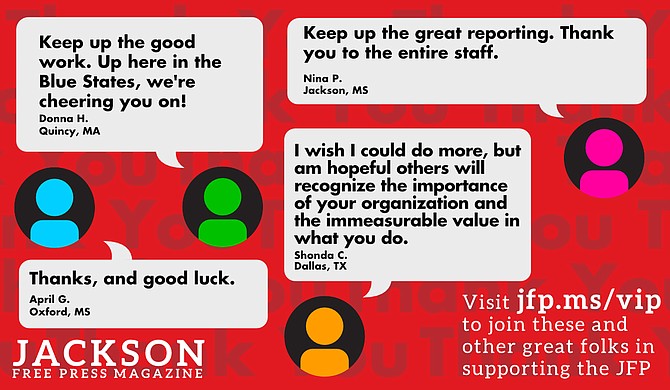 Thanks to all our new JFP VIPs!
COVID-19 has closed down the main sources of the JFP's revenue -- concerts, festivals, fundraisers, restaurants and bars. If everyone reading this article gives $5 or more, we should be able to continue publishing through the crisis. Please pay what you can to keep us reporting and publishing.