As I proofread this week's cover story about the stories mainstream media won't cover, I thought back to the first year of the Jackson Free Press.
We started the JFP on a wing and lots of prayers back in 2002 to, essentially, fill a gaping void left by all media in and around Jackson. Put simply: There were so many stories not being reported, or being presented in a way to appease certain segments of the community, depending on the media outlet. But more tragic, it was clear that passion was missing, or censored, from local journalism.
It is passion that leads a handful of people to sit around and plan a locally owned newspaper to fill the void left by corporate media. It is passion that led so many people to volunteer for the cause of real journalism in our early days to help us get off the ground. It is passion that leads a man from Texas to put everything, money and otherwise, he has into a paper in his girlfriend's home state where he has only lived a few months.
And it is passion that makes that group of people risk it all over and over and over again to tell the truth, and let the damn chips fall where they may—be it left or right.
I often tell people about Todd's stress in the early months of the JFP, especially when I took a deep breath and put something on the cover that a whole lot of people in and around Jackson—including business owners and advertisers—might not be in the mood to hear about or face, much less think about.
Todd is an excellent and award-winning writer and editor in his own right—quite frankly, he can do anything; heard him sing, yet?—but when he, Stephen Barnette and I cooked up the idea of the JFP, both of those creative men agreed to live on the other side of the "wall between church and state."
That's what we call the "wall" that good media outlets erect between editorial and advertising. Put simply: The only way to build trust and loyalty among the readership is to keep advertising's paws off the stories. Media outlets cannot ethically "sell" stories—promise them to businesses that advertise—and we cannot ethically forego doing important stories because advertisers, or the sales staff, might not approve. Loyal readerships, in turn, form loyal customer bases for advertisers. (And they cause papers like ours to keep growing as others shrink, but I digress.)
Thus, Todd ended up running the business side, and I the journalism enterprise. What that means is that my work can sometimes make his more difficult. As it should be.
Rewind to December 2002. We were a half-dozen biweekly issues into the JFP and growing steadily when then Majority Leader Trent Lott made his ridiculous statement in support of Sen. Strom Thurmond's über-racist Dixiecrat days. After hearing "What's the big deal?" one too many times, we realized that many people had simply not been taught the really tough facts about southern race history. So I dug out my master's project, and did a cover story about Mississippi's race history that explained in precise detail just why Lott's comment was so devastating. And like the good alternative that we are, we put a Tony DiFatta painting of Lott on the cover wearing a dunce hat and a Confederate flag tie.
Todd didn't sleep a wink that night.
He didn't object, of course, to what our journalistic mission entailed—telling the truth no matter who it ticks off. He just, quite simply, thought such frank talk about race and a certain popular Republican politician could end the JFP's glorious run before Christmas '02. (I know: It's funny now to think that frank race talk was unusual, but it was then, honest to God.
Guess what happened? Very little, beyond great conversation online and off. We survived the first test.
Then came Iraq. We were sitting in the middle of a state firmly ensconced in the Bush camp. Again, it's hard to imagine now, but then it was near-impossible to criticize the Bush administration out loud, much less his obsession with war in Iraq. Meantime, we were pulling our hair out if you bothered to look beyond partisan rhetoric of FOX News, you would find plenty of reasons to doubt the war. The debunking of that administration's claims about WMD and "yellowcake" and such were out there—and done by good journalists who don't give a hoot about one party or the other, just about the truth.
But it wasn't in the mainstream media. Even The New York Times was hawking what Dick Cheney was selling. So many in the media were unquestioning then that I consider them complicit now in the deaths of our soldiers in Iraq (including my cousin).
The week the war started in March 2003, we were already busy trying to debunk local crime hysteria and myths (we call it the Morgan-Quitno Scam) being pushed by The Clarion-Ledger and other media (egged on by political opponents of Harvey Johnson Jr. preparing for their man Melton to take over the city, as we all know now). But the war was a big deal. It was one of those moments when you leave nothing in the road. You step up. I looked at Todd and said, "I want my conscience to be clear in the future. I want to do what we can to tell the truth about the war."
He agreed. And he didn't sleep again the night after we put the huge "WAR" on the cover and ran a well-researched "Myths of the Iraq War" piece, much like the "Censored" piece that's in this issue.
And, no, a lot of people didn't like it (you can still find the comments at jacksonfreepress.com). Some people wanted to say it's because we were "liberal," but the truth isn't partisan. It's just the damn truth.
But you know what? We had our biggest advertising issue as of then in the next issue. And that was exactly when Todd started using the phrase, "Do the right thing and wait."
Of course, our dedication to the truth—from the popular lies about tort reform and the death penalty to the media-created cowboy myth that was Frank Melton—has continued to rankle some detractors. We've had lies told about us and our business, Web sites started to make fun of us, boycotts urged by angry right-wing bloggers. And, yes, Democrats and supporters have told us off for not endorsing their candidates or legislation.
Through it all, we have kept our eye on the journalistic grail: the truth. Mississippi deserves to be told the truth, whether about sacred cows or greedy politicians, or wars that kill our loved ones based on lies and trickery.
This is what newspapers exist to do. Thank you for supporting the truth.
Previous Comments
ID

154019

Comment

This is a great column too. I love stories that highlight doing good things or the right thing based on faith, courage and righteousness rather than giving in to Mississippi's usual window-dressing, lying and pretending while maintaining the ole ways and methods of the south that have kept us number 50 in almost everything among all the states.

Author

Walt

Date

2009-12-04T17:46:47-06:00
ID

154022

Comment

Thank you, Walt. ;-) I had another one working, but reading the Censored piece reminded me so much of the early days that this one just came out. And I love doing a column once or twice a year to shine a light on the efforts of this hard-working staff (most are still here right now on a Friday) -- and I don't always praise Todd enough for what he was willing to do in *my* home state to help get stories out that people wouldn't get here otherwise. He's my hero. ;-) It's so sad to see some people and politicians treat Mississippians like we're stupid, and don't need to know what's going on in the rest of the world. (Looking at you, Ledger and Barbour.) I also get mushy during the holidays, and start thinking about all the people and businesses that have supported us over the years. Tis the season to thank people!

Author

DonnaLadd

Date

2009-12-04T17:59:21-06:00
ID

154027

Comment

Well, she does it again people. I am amazed and stand or sit in awe reading her works. She never "leaves anything in the road" and tells us to stop sitting back and rotting our brains reading the mainstream stuff. We are so very lucky to have DL here in Jackson. I'm in the fight with you DL! Thank you!

Author

Langston Moore

Date

2009-12-04T22:49:25-06:00
More like this story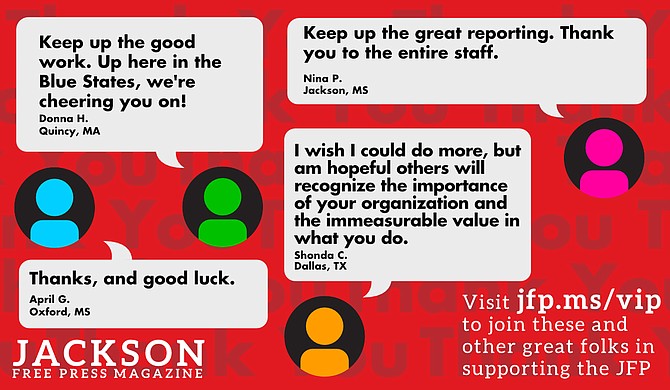 Thanks to all our new JFP VIPs!
COVID-19 has closed down the main sources of the JFP's revenue -- concerts, festivals, fundraisers, restaurants and bars. If everyone reading this article gives $5 or more, we should be able to continue publishing through the crisis. Please pay what you can to keep us reporting and publishing.