Mississippians are viewed as a "different breed" for a number of good reasons: our take on the second person plural, the affinity toward things like sweet tea and caramel cake, and the instinctive way we wave at neighbors (even if we have no clue who they are) as we ride through neighborhoods. These characteristics, although strange to outsiders, are what make our state home, a place we passionately defend in the face of questions like "do you wear shoes?"
Another characteristic of Mississippians is casting a shroud of ignorance over its citizens—the tendency to blur the line between church and state. The southeast region of the U.S. known as the Bible Belt has the name for a good reason. Mississippians' favorite pastime on a Sunday morning at 11 is sitting in church. Even the most atheist Mississippian has been to church. Religion (or the appearance of religion) is ingrained into southern culture just as much as "y'all" and fried okra. But that doesn't mean that it should spill over into the public arena of government and politics.
When I read that a Jackson Public Schools board member obstinately said that he didn't "care if it's legal or not" concerning holding prayer in public meetings, I was amazed. How could a person be so cavalier about purposefully violating the Constitution, the supreme law of the land? And moreover, how could a professed Christian neglect the rights and religions of other people he serves?
It doesn't matter if the majority of Mississippians (or the district for that matter) practice (or often just preach) Christianity. If there is one Taoist or Muslim in that meeting, not only has that person been alienated and offended, but we have also established a practice favoring a religion, which is a violation of the "separation between church and state" principle set forth by Thomas Jefferson.
Even the Bible concedes the point when Jesus tells the disciples: "Give to Caesar what is Caesar's and to God what is God's," in the gospels of Matthew, Mark and Luke. The verse refers to paying taxes to the government, but at the same token, it calls for an overall respect for the government, which rests on Christ's shoulders (Isaiah 9:6).
The government is not asking Christians to lay down our swords and not serve God with our actions. The first amendment gives us the right to practice religion freely. Instead, it only asks us to respect other people. I'm sure God wouldn't have a problem with that. Besides, if school board members are so eager to spread the word of God, then perhaps they should leave those plush seats and take to the streets of downtown with a sandwich and a Bible.
In the same vein as religion spilling over into government, it also doesn't need to spill over into politics. With the climate of election season becoming more and more hissy, the last thing many voters want to see or hear is a Bible study. It does my heart good to know that many of our candidates for state and local offices profess to follow God, but when I decide who I'm going to vote for, it will be because of the issues and crises that face Mississippi, not because of who carries around the biggest Bible.
The sad truth about pulling the religion card in politics is that it is one of the most deceptive tools used in gleaning votes. Dwell on these scenarios:
No. 1: The candidate lies about his faith to pull in the conservative independents and those of his/her own party. When the voters elect him/her into office based on the premise that a good Christian would have good discernment in to serve in his office, they are miserably disappointed when the elected fails.
No. 2: The candidate is actually an upstanding Christian man or woman. Voters elect him/her into office based on the same premise, but turns out that he/she knows nothing about what he/she is doing. Because he/she only talked about "Christian values" and attacked his/her opponent in the campaign, voters didn't realize that he/she was not qualified for his/her job. Yet another disappointment.
No. 3: Then there's the religion scenario where candidates leave out the issue altogether. Candidates offer their views and plans for Mississippi, which they intend to implement in their respective capacities, and voters are able to judge candidates beyond just a sound bite.
I don't want to turn on my TV or read political literature about how much a candidate loves God. I want to see and read that a candidate has, in the words of Gov. William Winter, "the capacity to inspire people, to look beyond their own narrow interests and to be willing to make building up the state and the communities of the state a very important part of their daily existence."
I am not advocating against religious institutions (at least not in this instance). I am an advocate for projecting an image of Mississippi that is more than just barefooted children in overalls and religious fanatics beating people down in the streets with the Good Book. We only perpetuate those images when we attempt to implement an overtly controversial practice such as prayer in a public school board meeting. We do that when we don't hold candidates accountable to the voters.
We Christians are called to share God's word, but we also must realize that the government is an institution, which many consider to be implemented by God to give us structure. We don't have to step outside of its limitations in order to do His work. We have other venues to share through. Besides—and I'm speaking for myself and perhaps a few others—it is a bit of a turn-off when religious advocates shove their beliefs down unwilling throats.
Editor's note: "Sharpton Defends The 'Jena 6'" (Vol. 5, No. 47) and "Let The Punishment Fit The Crime" (Vol. 6, No. 3) have been corrected to remove the association of beating victim Justin Barker with the noose-hanging incident at Jena High School. Barker has been reported as a friend of the noose-hangers, whose names have not been disclosed, but not as a co-conspirator in the noose incident. This error was not intentional. Maggie Burks and The Jackson Free Press apologize for the error.
Previous Comments
ID

75465

Comment

If Democrats don't mention God in their campaign speeches or commercials, republicans will continue to usurp and pervert God and religion for selfish political purposes, like they have already done in the past, while simultaneously engaging in unnecessary wars, hatred of the poor or less fortunate, survival and elevation of the fittiest, immorality, lying, theft, propganda and decit of all natures and kinds, et al. There is simply no benefit whatsoever for Democrats to fail to mention God or religion like they did in he past and allow people who balatantly acts with the opposite precepts of god and religious to claim a connection to either. After all, you don't have to actually practice religion or godliness. From what I can see, just claiming a belief is sufficient for most voters. How else can you explain the fraud that has been going on the last 6 years in particular and longer generally? If Democrats haven't learned by now that politic has been basically relegated to the slickest pagan or actor available they will never win again.

Author

Ray Carter

Date

2007-10-17T17:21:06-06:00
ID

75466

Comment

Great editorial, Mags! This is why I'm having trouble voting for John Arthur Eaves. I'm sure the guy means well, but why do we need the Bible taught in public schools? Why can't parents and churches teach the children about the Bible? I would say the same thing if a Muslim wanted a class to teach the Quran, or a Jew that wanted a class on the Torah. I believe in God and I am a Christian, but I don't need to wear it on my sleeves. As Ray already summarized, people have used God to do everything under the sun. Just look at the TV preacher scandals of the 80s and 90s, David Koresh & the Branch Davidians, Jim Jones, etc.

Author

golden eagle

Date

2007-10-17T20:00:36-06:00
ID

75467

Comment

I expected lots of people to disagree with what I said above. Heck, I guess I'm right again, as usual. However, I would be very careful not to alienate or offend people based on race, sex, sexual origin, religion, age and the likes.

Author

Ray Carter

Date

2007-10-18T11:08:13-06:00
ID

75468

Comment

I forgot to say, I'm tired of being right all the time. It leaves so little room to grow and improve.

Author

Ray Carter

Date

2007-10-18T11:26:53-06:00
ID

75469

Comment

your wrong ray. LOL just playing.

Author

NewJackson

Date

2007-10-18T11:44:31-06:00
More like this story
More stories by this author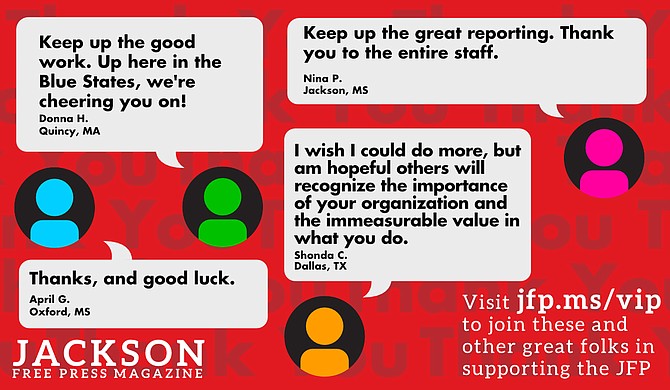 Thanks to all our new JFP VIPs!
COVID-19 has closed down the main sources of the JFP's revenue -- concerts, festivals, fundraisers, restaurants and bars. If everyone reading this article gives $5 or more, we should be able to continue publishing through the crisis. Please pay what you can to keep us reporting and publishing.