I had a professor who was adamant that if we turned in a series of work, each piece had to stand on its own, no matter how well it worked in the series. Since Jackson Artist Marylyn Dintenfass completed her education in the '60s, I doubt she had the same professor, but she has the same ethic for her grid pieces: Each quadrant stands on its own and also works with the other quadrants. I talked with Dintenfass about the new work created for her "Work in Progress" exhibit, and her choices for the fourth quadrant, which is always different from the other three.
At first, I wanted to fit Dintenfass' ceramics and paintings into a neat little package, but I couldn't. Her body of work in ceramics, printmaking and painting spans 40 years, and though she makes use of a grid in most of her work, it encompasses more than a simple theme. Dintenfass talks about her transition from large-scale ceramics to her more minimalist current paintings as an increase in her ability to convey a message with less. Her one stylistic constant, the grid layout, or use of separate panels within one piece, allows her to contrast or complement the adjacent panels in the fourth quadrant. The grid, she believes, allows her to convey the similarities between micro and macro worlds (e.g. showing an abstraction based on cellular organic objects beside an image of the solar system).
Dintenfass is painstakingly detail-oriented, but still brings spontaneity to her work. I asked her about the planning that went into the installation. She compared the process of planning versus improvisation in her paintings.
"The work, it has this set format of the grid ... but then within that, it is very free and rich," Dintenfass says. She discussed how the grid is like the organization and comfort of her studio, where she has freedom to create within the boundaries of the walls. Her studio is represented in the exhibit with a photo grid, with sketchbook pages and in-progress paintings tacked on top of the photos.
I looked at the sketches, read the notes, over-analyzed the titles, and still had to ask her about the meaning of the fourth quadrant.
Patiently, she explained it: "The fourth quadrant is kind of like the real scoop. If you peel away the layers of a painting, there is something behind it—just like everything in life—and the information could be something wonderful or dark. That is the idea of the fourth quadrant; it is giving you information that you didn't have before."
"Sometimes I choose it, and sometimes it chooses itself," she added.
She used her painting "High Heater" as an example: It was partially complete, but still had no fourth quadrant. She brought another of her paintings to the studio it found its home. "In an instant, it made the piece," Dintenfass says. "That is the most exciting time, because I never know how it is going to turn out."
One of the most exciting pieces in this show is "Light O' Lear." Created specifically for the "Work In Progress" show, Dintenfass planned it to show how she overlays color and "de-constructs" the layers of her paintings. The layers combine with scale and space, using elements from previous works that break the boundaries of the grid.
When I asked her about color overlays, Dintenfass explained: "I have to think about the way I want them to look in the end; I have to map out how I am going to lay down each color. This is a way of showing how translucent color changes when laid on top of one another. It is an important thing to build and construct. I like to construct; I like to layer. It has a lot to do with the basic concept of my work: that things are not what they seem. People always a deeper layer, and that sense of layering is always important in my work."
"Work in Progress: Marylyn Dintenfass" will be on display at the Mississippi Museum of Art through October 15th.
More stories by this author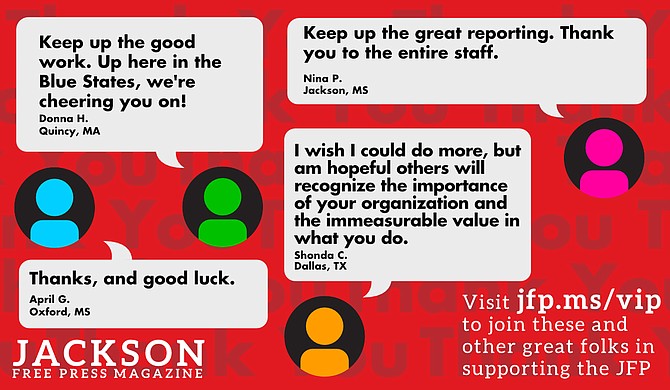 Thanks to all our new JFP VIPs!
COVID-19 has closed down the main sources of the JFP's revenue -- concerts, festivals, fundraisers, restaurants and bars. If everyone reading this article gives $5 or more, we should be able to continue publishing through the crisis. Please pay what you can to keep us reporting and publishing.