I'm not from Mississippi, but I have lived here off and on for enough years that I have a certain attachment to the state. I was lucky enough to attend a rather fine state university located in Mississippi, thus creating an even stronger bond. I happened to take a few classes in art history and ceramics. I assume that due to our locale there was considerably more emphasis placed on people like the Mad Potter of Biloxi than there might have been if we were in another state. I was also fortunate enough to get to hold in my hands a piece made by the Mad Potter and feel the delicacy and surprising lack of heft. This moment left a mark in my mind that none of my pottery ever came close to matching and also cemented lightness and delicacy as a sign of quality ceramics.
Regarding my own ceramics, I came to accept that my pieces could always substitute for free weights, and decided to instead focus on form. Perhaps because of my professor or maybe the other students I worked with in the studio that year, I came to see the tea pot as the perfect vessel. It incorporated all of the elements: the pulled handle, the amazingly hard-to-throw spout, and the lidded vessel. This is where my ideals of ceramics come from; a delicate light-weight tea pot is the pinnacle of good ceramics to me.
Take this background, add to it stereotypes of Asian cultures having an affinity for tea, and you get my expectations for "From the Fire: Contemporary Korean Ceramics" at the Mississippi Museum of Art. I was absolutely wrong. I'm not sure if among the 108 pieces there is a teapot or not (I haven't seen them all, yet), but there are many pieces that challenge my narrow ideas of quality ceramic work. Ceramic artist Choi Nam Gil's piece "The Ancient—Review of Nature" from the title may sound like a very traditional piece, and if you pass by it at the museum fast enough, you might think it is as well, but in truth it is a postmodern interpretation of a burled, turned wooden bowl depicted in ceramics. I look at this piece and see a massive demonstration of skill. At first glimpse you see it as a well-executed, turned wooden bowl, but then you notice it isn't perfectly round and has such a visual weight that it causes a pause. Once it sinks in that this is a ceramic work, the entire context you see it in changes. The visual weight seems to be a response to the traditional view (i.e. my view) that ceramics should be delicate and the subject matter (loose use of the term subject matter) is depicted so well and then taken beyond where the depicted object could go with its slightly oblong form. Perhaps this realistic representation is more a function of glaze than skill at the potter's wheel, but the piece as a whole is what works and makes you think.
There are many other postmodern and modern pieces in the show like Ji Wan Joo's "Celadon Box Series." The box series incorporates traditional celadon-ware methods into what is clearly a modern form. The boxes have bottom edges with negative chevron-like forms and sides that are decorated with linear elements. These boxes take a sterile form and use design elements from our daily lives to show us the design and aesthetic quality while preserving a ceramic heritage in their materials and construction.
The curator also saw fit to include elegant traditional pieces like Chong-Nye Whang's "Bowl 1." It is a study of form with classical design elements in the glaze: a slightly modern touch, giving it an almost imperfect impression. Despite the museum's refusal to let me pick it up and see how it felt in my hand, it appears light and delicate, and that is comforting enough to my slow-to-change ceramic ideals.
The exhibit is the largest collection of contemporary Korean ceramics ever to be displayed in the United States. This collection of work represents 54 contemporary Korean ceramic artists who work with traditional materials and modern influences to create both functional pottery and purely aesthetic ceramic sculptures. The traveling exhibit has been brought to Jackson through the work of the museum and Jackson State University, both of whom will sponsor several related lectures in association with the exhibit.
The first event for the exhibit is a reception at the museum on July 8 at 6 p.m., featuring a short talk about Korean culture by a diplomat from the Korean Consulate.
All associated events, lectures, demonstrations and workshops are free to the public. Go to http://www.msmuseumart.org or call 601-960-1515 for more details.
More stories by this author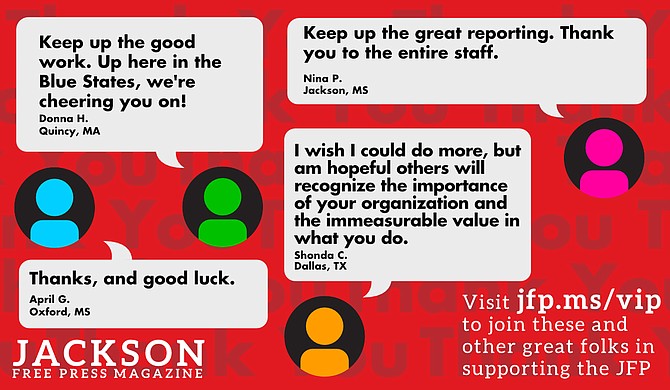 Thanks to all our new JFP VIPs!
COVID-19 has closed down the main sources of the JFP's revenue -- concerts, festivals, fundraisers, restaurants and bars. If everyone reading this article gives $5 or more, we should be able to continue publishing through the crisis. Please pay what you can to keep us reporting and publishing.