— Doodleville Blues, by John Henry "Bubba" Brown & Cary Lee Simmons
Looking north from the corner of Farish Street and Amite in downtown Jackson, you can see the hazy signs of plodding progress. The sidewalks have been widened, the street narrowed. Bright green streetlamps—curved affairs that are slightly Disney-esque—have sprouted at regular intervals. Some building facades are caved in, but cleared out somewhat; others are braced with large steel beams, a strong visual statement of a lesson learned. The street has a layer of light-brown dust, but it's future dust—construction.
This, of course, isn't how it's always been for Farish, which has seen just about every stage of boom and bust there is. Four and five decades ago, Farish Street was hopping, and on Saturdays, one resident recalls, the street "was as packed as Bourbon Street on Mardi Gras day." Much of the crowd then consisted of country folks who took special buses to Farish Street to stock up on dry goods and visit the cafes on the street, where beer flowed inexpensively and jukeboxes blared out the latest R&B sounds. The records themselves could be bought at several local furniture stores, including one that contained a recording studio and nationally distributed label, while moviegoers could choose from the selections at the Amite, the Booker T and the Alamo; the latter also hosted prominent out-of-town touring bands.
But Farish Street wasn't just about music—in fact, it wasn't even primarily about music. Farish was the center of African American professional life in Jackson, and housed the offices of doctors, lawyers and loan companies, as well as funeral homes, medical facilities and churches. An early campus of Jackson College, which later became Jackson State University, was located in the area; Hill´s Hall, at 300 North Farish St., hosted meetings by fraternal groups as well as the Black and Tan Republican Party. The offices of Medgar Evers, the first field secretary of the NAACP in Mississippi, were for a time located at 309 North Farish. The Mississippi Free Press, a newspaper started by Evers and a group of black and white civil rights activists, and boycotted by the White Citizens Council, was housed at 538½ Farish.
The first block off Capitol, known historically as "the block," was the location of prominent black-owned businesses including the Jackson Advocate, a newspaper founded in 1930, and the photography studio of Richard Henry Beadle, whose photos of Jackson are displayed at the Smith Robertson Museum and Cultural Center nearby on Bloom Street. "The block" was later razed to make room for a municipal parking garage and the A. H. McCoy Federal Building, named in honor of an African American dentist and state president of the NAACP.
'The District's Integrity'
In many ways, Farish Street was similar to Memphis' Beale Street in the '40s and 1950s, and, like its counterpart in the Bluff City, it experienced dramatic decline in the 1960s and 1970s as the result of population flight from the urban center, competition from new shopping districts and, not least, willful neglect on the part of the city and state governments.
In recent decades, Beale Street has been transformed from an urban wasteland to a popular entertainment Mecca, a process overseen by Memphis-based Performa Entertainment Real Estate, Inc. In June 2002 the city of Jackson signed a 45-year lease with Performa for development and management of the "Farish Street Entertainment District," located on the two blocks of Farish between Amite and Hamilton, which is proposed to contain 80,000 square feet of retail space on property acquired by the Jackson Redevelopment Authority for more than $2 million.
Over the last 20 months, bulldozers and building crews have been working intermittently to lay brick on the street and newly widened sidewalks, a process that has been delayed significantly by the discovery of underground utility lines that the city had not maintained since at least the 1950s. Once construction began, sludge created by leaking water and sewage pipes contributed to the collapse of the facades of several buildings on the 200 block of North Farish. Those few businesses that have remained open, such as Peaches Restaurant, have experienced a considerable decline in business.
Today the brickwork is nearly finished, and according to Cato T. Walker, III, the senior vice president of development for Performa, the firm will begin construction on new buildings in the second quarter of the year. Performa will also seek "resort" status for the district, which would allow longer opening hours for establishments that serve alcohol.
Asked about Performa's plans to balance new businesses and tradition, Walker noted that "there are fail-safes in place to make sure we ensure the district's integrity," a reference to local interest groups such as the Farish Street Foundation and the fact that many buildings in the Farish Street District are listed in the National Register of Historic Places. These "fail-safes," he says, will "make sure that traditional culture survives what we do."
Unknown, but Grand History
In the last several years, African American "traditional culture" has become a hot commodity in Mississippi, and the state government recently jumped on the bandwagon with the creation of a special commission dedicated to expanding and developing blues-related cultural tourism. In Clarksdale, Morgan Freeman's new Ground Zero club has attracted tourists to other blues sites in town, including the Delta Blues Museum, and blues museums have recently been started or are in the planning stages in Vicksburg, Greenville, Greenwood, Indianola, Leland and tiny Avalon, the resting place of Mississippi John Hurt.
In Jackson, Isaac Byrd's 930 Blues Café is the most recent expression of this newfound interest in blues tourism, but even here the focus is expressed through the romantic imagery of the "Delta blues"—walking up the stairs to the club the first thing you see is a photo of B.B. King with his arms outstretched and the greeting "welcome to the Delta." Comparatively, "Jackson blues" has little resonance, and as the city gears up for a blues-themed district, Jackson's considerable musical legacy remains for most residents an unknown quantity.
Although Jackson's blues history is relatively uncelebrated, it is nevertheless a grand one, stretching from the earliest days of the "country" blues through the pioneering sounds of postwar electric bluesmen, to the innovative soul-blues recorded in Jackson today by Malaco and other labels. For much of the 20th century, Farish Street was at the center of the blues, playing a key role in its commercial documentation and distribution.
Jackson's 'Country Blues'
Prior to the development of formal African American musical theater networks, much of popular entertainment in the late 1800s and early 1900s was the likes of the Georgia Minstrels or the Port Gibson-based F.S. Wolcott Rabbit Foot Minstrel Show—traveling minstrel troupes which featured many pioneering blues artists in their ranks. In Jackson, these groups would often set up in the field on the corner of Farish and Hamilton, behind the current location of the Alamo Theatre, and announce their arrival by staging parades on Farish Street.
More informally, artists would play at house parties and on the bustling streets for tips. Few eyewitness accounts survive about these musicians, but we do know much about the pioneering bluesmen in the Jackson area from research conducted in the 1960s by Dr. David Evans, currently head of the Ethnomusicology program at the University of Memphis, and Gayle Dean Wardlow, a Meridian native and pioneering 78-RPM record collector whose work is collected in the book "Chasin' The Devil's Music: Searching For the Blues" (Miller Freeman Books, 1998).
Evans and Wardlow agree that Tommy Johnson, born in 1896 in Terry, was the most important blues artist in the Jackson area in the 1920s and 1930s. After spending most of the teens in the dynamic blues scene in Drew, in the circle of artists that surrounded Delta blues pioneer Charley Patton, Johnson lived in the south Jackson neighborhood of Doodleville as well as on Ann Banks Street, behind the current blues club The Queen of Hearts. Johnson influenced many other artists in the area, a process documented by Evans in his study "Big Road Blues," titled after Johnson's signature tune. Johnson, the inspiration for Chris Thomas King's character in "O Brother Where Art Thou," claimed to have sold his soul to the devil and prior to his death in 1956 lived a life of carousing; his song "Canned Heat Blues," which noted the dangers of drinking Sterno-like cooking fuel, provided the name of a celebrated 1960s rock band.
Johnson's niece, Shirley Johnson Collins, a resident of North Jackson, has been working to honor her uncle in his longtime home of Crystal Springs. Although a grave marker was dedicated to Johnson several years ago, it has yet to be placed—the graveyard is surrounded by private property, and local residents have resisted efforts to create an access road. In the meantime, Johnson's grave marker and a small exhibit on the bluesman are displayed at the J.T. Biggs Memorial Library in Crystal Springs.
Speir, Talent Broker
That we even know about Johnson and his compatriots is due mostly to H.C. Speir (1895-1972), a white man who operated a music and furniture store on Farish Street, beginning at 225 North Farish St. in 1925, and later at 111 North Farish St. (now the site of the McCoy Federal Building). Speir gained familiarity with the blues through selling records in his store, which led to work as a "talent broker," beginning in 1926, for the record companies—OKeh, Victor, Gennett, ARC and Paramount—that recorded many of the early Mississippi bluesmen.
Using a metal disc machine in his store, Speir made demo recordings of artists that he sent to the labels. If the label wanted to hear more, they'd bring the artists up to their studios or arranged for recording sessions at a regional center. In Jackson, bluesman Ishmon Bracey led Speir to Tommy Johnson, and word quickly spread among musicians that Speir could help them make records. Legendary bluesman Skip James from Bentonia showed up for an audition in 1931, leading to his breakthrough studio recording session, as did Meridian's Jimmie Rodgers, later acclaimed as the father of country music, whom Speir turned down. Speir also made a demo recording of Robert Johnson's "Kind Hearted Woman" but ultimately sent him on to another agent, who arranged for Johnson's first recording session in 1936.
Speir traveled throughout the South—and even into Mexico—looking for talent and located Charley Patton at Dockery Plantation in Drew, leading to Patton's historic recordings for the Paramount label and the documentation of other important Delta blues artists. Speir also supervised several sessions in Jackson. A December 1930 session for OKeh Records at the King Edward Hotel yielded recordings by artists including the Mississippi Sheiks, a popular black string band consisting of four Chatmon brothers from the Bolton/Edwards area, which was also Patton's birthplace. The Sheiks' "Sittin' On Top of the World" was one of the most popular blues songs of 1931, inspiring many cover versions, while brother Bo Chatmon paid tribute to the big city in his "East Jackson Blues." In 1935, Speir conducted another session at the Crystal Palace Ballroom at 538 Farish St., with many artists whom he had located in Memphis. Speir retired from recording after supervising another session in Hattiesburg in 1936, and left Farish Street after a 1942 fire at his store.
'A Place of Elegance'
As the "Crossroads of the South," Jackson has historically been a stopping place for jazz, blues, and R&B musicians on their way to New Orleans and Memphis or to points east and west, and for many decades Farish Street, with its cafes, clubs and hotels, was the natural destination.
The Crystal Palace Ballroom was the most celebrated nightspot on Farish Street during the 1930s and early 1940s, and its upstairs ballroom hosted entertainers including Duke Ellington, Cab Calloway, Louis Armstrong, "Papa" Celestin, Jimmie Lunceford, Andy Kirk, Fletcher Henderson, Count Basie and Fats Waller. In the Aug. 2, 1941 edition of the Jackson Advocate, editor Percy Greene wrote in his column "Up and Down Farish Street" about a forthcoming appearance at the Palace by popular blues singer Lil Green, who was backed by Tiny Bradshaw's band. "[F]rom what I hear up and down the Ole Avenue, the Crystal Palace will hardly be able to hold the folks who will be up there to see her sing Tuesday night… Me for one I'll be there."
Poet Margaret Walker Alexander, who taught at Jackson State from 1949 to 1979, celebrated the nightclub in the poem "Crystal Palace" in her collection "Farish Street Green." Alexander described the club as "a place of elegance/where 'bourgie' black folks came to shoot/a game of pool" and listened to down-home music. A line she quotes in the poem is found in Tommy Johnson's "Big Fat Mama Blues."
By late 1942, the Crystal Palace had been transformed into a USO service club, and today is the home of Birdland, a hip-hop joint. From 1951 until 2003 the building housed Harmon's Drug Store, which recently relocated to 614 North Farish. Although he didn't go out to see music much himself, pharmacist George Harmon recalls many artists visiting his store while they were staying at the nearby Edward Lee Hotel, located just off Farish on Church Street. Harmon's son Zac, a successful contemporary R&B record producer and songwriter based in L.A., recently won the Blues Foundation's International Blues Challenge in Memphis. Zac, born in the late 1950s, remembers seeing blues artists playing on Farish Street as a boy. He later played in the bands of Dorothy Moore and Sam Myers, and taught a young Eddie Cotton, Jr., to play the guitar at the Farish Street YMCA. (Cotton was recently voted 2004 Best Musician by JFP readers.)
Remember the Alamo?
The Alamo Theatre has been an institution in the Farish Street District since the early 1900s, when it was built on the first block of Farish Street, across from where the McCoy Federal building is now located. It later moved to a second location on Amite Street, where Jackson native Otis Spann, Muddy Waters' longtime pianist, won a talent contest at age 8 in the late 1930s. By the early 1940s the Alamo had moved to its present location at 333 North Farish St., and in the latter part of that decade and the early 1950s the theater appears to have partially filled the void left by the demise of the Crystal Palace. Longtime residents recall performances there by stars including Nat "King" Cole, Cab Calloway, Louis Jordan and Buddy & Ella Johnson, as well as vaudeville revues.
By the mid-1950s the Alamo was no longer a major concert venue, and larger acts most often played at venues near the Jackson State campus, including the Masonic Temple, the Elk's Lodge and the College Park Auditorium, or just outside the city limits on the "strip," near the intersection of Highway 49 and Northside Drive, and the "Gold Coast," just over the Woodrow Wilson Bridge in Rankin County.
The Alamo continued to play an important role in the local music scene in the 1950s and 1960s, though, by hosting Wednesday night talent contests. The contests were emceed by Jobie Martin, a popular deejay on Jackson's WOKJ who arrived in town in 1956; he later hosted a television show on WLBT. The talent contests featured backing bands including Louis Lee's Mighty Upsetters Dance Band and King Mose's Royal Rockers, which was otherwise fronted by harmonica legend Sam Myers.
One frequent winner was Dorothy Moore, who began performing before the mostly adult audience and against adult competitors in the seventh grade. Moore's many victories eventually led to a recording deal with Epic Records fronting the girl group The Poppies. She would later sell millions of records as a solo artist for Jackson's Malaco Records.
"It taught me a lesson,"Moore recalls of the talent shows. "It really was my classroom for what I'm doing today. [I learned] when to bring out my ammunition, what type of songs to sing. I just knew what to sing as far as to really get down and get the audience."
Love and Hep Cats
Several record labels that got their start on Farish Street left a tangible legacy, notably Trumpet Records owned by Lillian McMurry (1921-1999). The label is documented in Marc Ryan's book "Trumpet Records," recently re-issued by the University Press of Mississippi.
In 1949, McMurry purchased a furniture store at 309 North Farish. Among the leftover stock was a pile of 78-rpm records. After listening to Wynonie Harris' raucous "All She Wants To Do Is Rock," the first black blues record the white McMurry had ever heard, she was inspired to enter the record retail business. Her Record Mart sponsored radio programs on several stations, including Woodson Wall's "Old Hep Cat" show on powerful WRBC, and the store was soon selling upward of 1,500 records a day via mail order.
The store featured listening booths for customers, and after hearing a vocal group singing along to a new disc in her store, McMurry decided to move into recording. In April 1950 she debuted with the gospel group the St. Andrews Gospelaires, issuing the records on the Trumpet label through her Diamond Record Company.
During Trumpet's run from 1950-55, the label recorded dozens of gospel, rockabilly and country records, but today it is best known for down-home blues giants including Greenville's Willie Love, who was backed on one session by Little Milton Campbell, Big Joe Williams, Arthur "Big Boy" Crudup, Jerry McCain, Elmore James and harmonica legend Aleck (or Rice) Miller, aka Sonny Boy Williamson II. Often local musicians backed the artists; they included bandleaders Duke Huddleston (sax) and Joe Dyson (drums), pianist Dave Campbell, brothers Sherrill and Bernard "Bubba" Holly, both on saxophone, and bassist Herman Fowlkes, father of jazz vocalist Cassandra Wilson.
Williamson, who deliberately tried to capitalize on the fame of recording artist John Lee "Sonny Boy" Williamson before becoming famous in his own right, was already well-known in the Delta in the late 1940s through radio broadcasts over Helena, Ark.'s KFFA and the Belzoni-based Talaho program, broadcast over WJPR in Greenville and WAZF in Yazoo City. McMurry tracked down Williamson in the Delta, and in January 1951 she supervised a session that found Williamson backed by musicians including guitarist Elmore James and drummer Dyson.
The session resulted in Williamson's first single, which contained the classic "Eyesight to the Blind," with its memorable couplet "Her daddy must been a millionaire, because I can tell by the way she walk/Every time she start to loving, the deaf and dumb begin to talk." Before moving on to Chicago's Chess Records and collaborations with rock musicians including Eric Clapton, Williamson cut another 13 singles for Trumpet and its subsidiary Globe label.
Williamson, who had a close relationship with McMurray, lived with his wife Mattie down the block at 507-1/2 North Farish in an apartment in the building that now houses the Big Apple Inn, founded in 1939 by Mexican immigrant Juan Mora. Gene Lee Sr., father of current owner Gene Lee Jr., and grandson of Mora, used to go fishing with Sonny Boy. That same building also contained the office of NAACP Field Secretary Medgar Evers, who was assassinated in 1963. According to Mayor Harvey Johnson's office, there are plans for a historical plaque for the building.
Elmore James recorded only one song for Trumpet, his classic "Dust My Broom," an electrified remake of Robert Johnson's 1936 recording, which Trumpet issued coupled with local Bobo Thomas' "Catfish Blues." Although James was under contract with Trumpet—a popular legend that he was duped into recording for Trumpet was later disproved by McMurray—he was surreptitiously recruited by Modern Records, resulting in legal problems, and went on to become one of the legends of the modern blues era. James would continue to visit the Jackson area regularly until his death in 1963, often playing on the Gold Coast and at Percy Simpson's club on Moonbeam on "the strip."
Genuine Mississippi
In 1954 McMurry opened the Diamond Recording Studio in the back of her store. One of the studio's clients was Ace Records, owned by John Vincent Imbragulio (1927-2000), better known as Johnny Vincent. Vincent, a native of Laurel, started out in the music business in 1945 as a jukebox operator and in the late 1940s purchased a record store located at 241 North Farish St. He soon started his own label, Champion Records, and released about a dozen singles by local hillbilly and R&B artists including bandleader/drummer Joe Dyson and Arthur "Big Boy" Crudup, composer of several songs that Elvis later recorded, including "That's All Right, Mama" and "My Baby Left Me."
Champion was short-lived, and in November 1950 Vincent began working for Los Angeles-based Specialty Records. Vincent worked mostly out of New Orleans, where he supervised many recording sessions, including his greatest success for Specialty, Guitar Slim's "Things I Used To Do." Vincent left Specialty in 1954 and launched Ace Records in Jackson the following year, basing his operations for many years out of 209 W. Capitol St. Ace's first hit was Crescent City bluesman Earl King's "Lonely, Lonely Nights," recorded in Jackson with the Joe Dyson orchestra, who recorded for Vincent with vocalists Kenzie Moore and Johnny Collins.
New Orleans artists provided the majority of the several hundred releases on Ace and subsidiary labels through the mid-1960s, including Bobby Marchan, Huey "Piano" Smith & the Clowns, and a young Mac Rebennack, aka Dr. John, who worked as a session guitarist and A&R man for Vincent. Recordings by local artists were fewer but included Sam Myers' 1956 debut single "Sleeping In The Ground;" at the time Myers was the front man for drummer King Mose's Royal Rockers.
By the early 1960s Vincent was enjoying great success with the white pop singer Jimmy "Just A Dream" Clanton, but his operations were derailed following the collapse of an alliance with Vee-Jay Records. Vincent maintained a relatively low profile in the record business for the next several decades, operating Ace largely as an "oldies" firm, but played an important role as a mentor to Malaco Records, which was started in an office in Vincent's building on Capitol Street. In 1981 Vincent released the LP "Genuine Mississippi Blues," recordings of local "down-home" artists Sam Myers, Johnny Littlejohn, John "Big Bad Smitty" Smith and King Edward (Antoine), and returned full-force in the 1990s in the field of soul-blues with Ace and then the Avanti label, now distributed by Malaco.
A Music Town … Again
For the last several decades, blues activity on Farish Street has been a relatively low-profile affair. In the 1970s and early 1980s the down-home blues scene was centered around Richard's Playhouse at 814 Farish St., where Zac Harmon first met his mentor Sam Myers; other artists who played at the club included Big Bad Smitty and guitarist Tommy Lee Thompson. In the mid-1990s Jesse Robinson, a fixture on the city's blues scene since the early 1960s, started a popular jam session at Fields Cafe, at the corner of Farish and Griffith. Owner Kenneth Shows closed the café because of the recent construction, but has plans to reopen in the near future.
The current efforts to restore the area can be traced back to 1980, when the Farish Street Historical District, a 125-acre area including 700 buildings, was listed in the National Register of Historic Places. The Smith Robertson Museum, housed in the city's first black school, opened in 1984 after efforts led by the late Dr. Jessie Mosley, the first director of the museum, and Dr. Alferdteen Harrison, head of the Margaret Walker Alexander Research Center at JSU, who compiled the 1984 study "The Farish Street Historic District: Memories, Perceptions, and Developmental Alternatives," for the Mississippi Committee For the Humanities. The museum features some blues artifacts in its permanent collection, and recently hosted an exhibition of Roland Freeman's photographs of the Delta Blues Festival.
The museum's board also oversaw the restoration of the Alamo Theatre, which reopened in 1997. Although the theater doesn't yet offer regular entertainment, it has hosted various cultural heritage efforts, including benefits and a January 2001 event, "Recollections of Farish Street," that featured several panels of veteran musicians, including Dorothy Moore, who has taken an active role in promoting the neighborhood venue where she started her career. Soon, stone markers that were dedicated at the event will be finally laid in the new brick sidewalk. Stones depicting Moore, Sam Myers and B.B. King, who played in a session behind Sonny Boy Williamson for Trumpet, will be placed in front of the Alamo, while a stone for Williamson will rest at the former site of Trumpet Records.
The Alamo's continuing relevance to the music scene is demonstrated every third Friday, when The Musicians, longtime veterans of the city's jazz, blues and R&B scenes, take the stage. It was also the setting for Eddie Cotton's acclaimed debut CD, "Live At the Alamo Theatre."
"My hopes are that the theater will be used more by the community for programming now that the infrastructure work is almost complete," says Erma Johnson, chairwoman of the Smith Robertson/Alamo board. "It should serve as the central point of the revitalization of the Farish Street District."
Next door to the Alamo is Peaches Restaurant, founded in 1961 by owner Willora Ephram, where blues blares continuously from the jukebox. Ephram's son Roderick, who manages the café, is already planning blues events to celebrate the reopening of Farish Street, and proudly displays blues photos on the wall and counters in the cafe. His enthusiasm is shared by Jesse Robinson, who performs with harmonica player Scott Albert Johnson for the lunch crowd every Thursday; the gig pays little, but Robinson's concern is more about keeping the tradition of live music on Farish Street alive.
Robinson, who recalls a not-too-distant past when multiple blues groups including his own played in the city every night of the week, is cautiously optimistic about the future of Farish Street. "If they get it open beyond three or four businesses, it's going to be good," he says. "For the first couple of years curiosity is going to bring people in. But if they recognize the local musicians, and put the local musicians to work, it'll pan out fine."
"It'll be a music town again," Robinson added.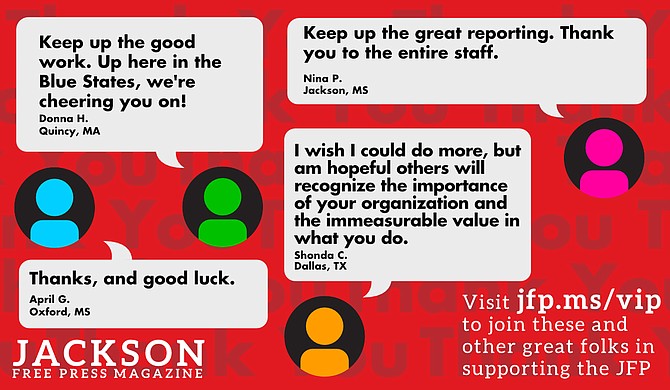 Thanks to all our new JFP VIPs!
COVID-19 has closed down the main sources of the JFP's revenue -- concerts, festivals, fundraisers, restaurants and bars. If everyone reading this article gives $5 or more, we should be able to continue publishing through the crisis. Please pay what you can to keep us reporting and publishing.