I never sought to rear a fancy-pants food snob. I just wanted to dish up nutritive nosh for my sweet patootie progeny so she could avoid living large with health concerns like her jolly, phat chef parents. Even before she turned 1, I seared meaty, pink salmon with tarragon, sautéed spinach and garlic in fruity olive oil, braised baby brussels sprouts in deep, rich veal stock, and whipped up countless French omelets with broccoli and cheese. With only six teeth, she gobbled them down, kicking her legs and flailing her arms, squealing with delight as she eagerly grabbed for more. At that tender age, Emma lustily laid waste to vinegar-spiked collard greens, chile-crusted shrimp and lemony asparagus spears, intoxicated by the confluence of flavors. Her appetite for vitamin-rich victuals elated me.
But I had my detractors. Friends and family were alarmed by my failure to offer Happy Meals or boxed macaroni and cheese to my Emma. It was tantamount to child abuse. But why, pray tell, would you feed a 1-year-old baby a hot dog when they are enraptured by a broccoli and cheese omelet? In a moment of weakness, I caved and bought Rip Em's, a processed cheese invention that kids can rip apart into neat rectangles of cheese product. Rather than nominating me for the "Cool Mom" award, Emma fed the cheese-flavored playthings to our dogs. Clearly unimpressed by this marketing gimmick, she requested the return of genuine string cheese. Now, I admit, Emma will wolf down hot dogs, chocolate-chip pancakes or any other "Kid's Menu" staple when tastefully presented, but why offer sugar and nitrite rubbish when your kid is ecstatic for salubrious viands?
There is a new, award-winning multi-sensory video series called "Baby Gourmet" that exposes children from infancy to preschool ages to a variety of fruits and vegetables. With 20 percent of American children obese, this series hopes to expose and inspire children to eat well and accept new foods presented to them.
Emma never required appetite-cajoling trickery. No "here comes the train into the station … open wide, chugga, chugga, choo choo." She always ate just about anything ever popped into her gaping pie-hole. However, her discriminating palate sometimes gave the illusion she was a fussy eater. She let you know if she felt the dish could use more bravado. Her face registered a disappointed look as soon as the flavors landed on her tongue. She appeared to have a lot on her mind as she scrunched up her face, squinted her eyes and pursed her rosebud lips. I generally interpreted her expressions to indicate the dish could use a pinch of this or that.
My toddler is a pleasure-bent epicurean, if that can be said with a straight face. Once, I began slicing some strawberries for her and she protested, "No, I eat like this." She grabbed the bulbous, molar-shaped strawberry, held it by the stem and chomped down. Juice streamed down her chubby brown cheeks. "Ummm," she cooed. I attempted to wipe her sticky face, but she just waved me off indignantly saying, "No, I lick, sluuuurp."
We appreciated our toddler was atypical when we took her to Shapley's Restaurant (868 Centre Street, Ridgeland, 957-3753) just after she turned 2. It seems awfully young, I know, but dining was already her favorite sport. As we were served our salads, Emma turned her attention to my plate. Bit by bit, she picked all the blue cheese crumbles off my salad, daring me to stop her with the determined expression on her face. "Should we let her eat that?" I asked my husband. Neither of us could wrap our brains around the fact that our tiny tot was devouring a cheese that causes otherwise sophisticated adults to shriek "ewwwww" at the effluvial, moldy curds. We were at a grown-up place and wanted to maintain proper decorum, so we flagged down the waiter for an Emma-sized ramekin of blue cheese.
Around the same time, we dined at a fabulous Thai restaurant while vacationing. We watched vulture-like with some trepidation as Emma grabbed dwindling fistfuls of our favorite Pad Thai noodles and spicy green eggplant curry. We dipped our Vietnamese summer rolls into the nuoc mam, a pungent fish sauce dip, and she expertly mirrored our every move, dunking her salad roll with flourish. She even found the spicy squid with Thai basil irresistible, only slowing down to gulp milk between bites. Her Daddy just shook his head and said, "That kid is incredible."
Last Saturday, her grandmother (Maw) asked her where she would like to have lunch, and she responded brightly, "How about Bon Ami (1220 E. Northside Drive, 982-0405), Maw?" My 3-year-old can't live without this high-end French bistro's sautéed crawfish tossed with mascarpone-basil cream sauce over whole-wheat penne pasta. At Little Tokyo II (876 Avery Boulevard, 991-3800), she is smitten by the gomae, a cold sesame spinach dish, and the miso soup with extra tofu (pronounced "toe food"). She consumes California and asparagus rolls like a sushi connoisseur, but we have to slap her hand when she tries to thieve the raw fish from atop our chirashi. Emma and her Daddy regularly fight over who gets the last piece of broccoli, which Emma loves to double-plunge into the sweet and salty miso dip.
Emma's pediatrician warned us. When two extremely sensitive, sybaritic gourmands mate, the offspring are bound to have a primal drive for delectable chow. So far, the only food we have discovered Emma does not like is watermelon or anything that is overcooked, unseasoned or in general poorly prepared. I once made the mistake of underestimating my child's rather sophisticated palate. I whopped off a frozen chunk of salmon and threw it in the microwave for her dinner. Perhaps I overcooked it a bit, but not any worse than you get at most restaurants. She turned her baby-button nose up like I had just served Dover sole with salsa.
Perhaps current research on the science of taste is accurate. It has been established that the average person possesses around 10,000 taste buds, but recent finding indicate that some people boast an embarrassment of riches. The more taste buds a person has, the better sense of taste they will have. Emma must be blessed. Of course, taste is mainly smell. With blocked nose, many people cannot even distinguish between tuna and yogurt! Flavor is a combination of taste, smell, texture and temperature. When I do not allow Emma to have something because it is unsafe for small children (like raw oysters or sashimi) she asks, "Can I just smell it? Oooh, that smells delicious, Mommy."
It makes sense that Emma craves diverse, complex flavors and aromas. A child's taste buds are more sensitive to flavor than ours. As we age, our taste buds begin to diminish. Unlike most children, Emma never developed a "food jag" where she became stuck on one thing. It irritates her when I order the same grande skinny café au lait with five sweeteners every day for my morning coffee. She urges me to try something new.
As much as I would adore regarding my child as peerless, Emma is not the only infantile-type interested in the culinary arts. Professional cooking schools and culinary stores are catering to baby gourmands with extremely popular hands-on cooking classes. Celebrity chefs are coming out with books and television programming for children. All-Clad, one of America's premier cookware manufacturers, introduced the Emeril Lagasse Children's Cookware Set which includes a two-quart covered saucepan, three Junior Non-Stick Tools, Apron, Baby Bam Spice and his new kid's cookbook, "There's a Chef in My Soup!" Kaiser Bakeware lures budding bakers with their five-piece children's starter baking sets. A baby whisk, flour sifter, cooling rack, 6 inch loaf pan and bundform for elfin hands are included.
Baby gourmands even have their own Web site, http://www.kidscook.com, featuring recipes, contests and cooking projects for children ages 3 to teens. The site encourages parents to cook with their children for a fun family activity that promotes bonding between parent and child.
But that's not why I cook with my child. I cook with Emma to avoid squeezing into an eentsy-weentsy wrought-iron chair at her miniaturized table for the thousandth pretend tea party. I cook with Emma to avoid tossing a ball in the mosquito-crowded doggie-poop minefield we call our backyard. I would love to be the kind of mom who plays for hours, digressing to childhood with joie de vivre, but I am just not that Mom. I don't want to make a drum set out of oatmeal boxes or a tissue box guitar. Bleach bottle piggy banks and felt finger puppets are amusing, worthy projects … for someone else's kid.
So Emma and I cook together. We prepare sausage balls, my favorite white-trash recipe, and her tiny hands roll those balls better than my meaty paws ever could. At home, we bake cookies and cakes, pizza bagels and cinnamon toast. At the restaurant, she specializes in yeast rolls, sitting atop the smooth, floured oak workbench alongside our pastry chef molding orbs of malleable dough with her pint-sized, pudgy hands while Mommy and Daddy prepare for the evening rush. Sometimes Emma is allowed to "cook" with Daddy as he whisks, slices and dices. She tastes everything he cooks and proclaims, "Daddy that's the bestest food in the whole wide world."
In addition to cooking, Emma also conducts cooking classes from her 1970s wooden toy oven. She proudly and professionally dons her poofy baker's toque and personalized Executive Chef coat, and instructs her students (the stuffed animals, Sponge Bob and me) on the fundamentals of soup preparation. She flips her fake fried egg in her plastic, hot-pink skillet like a seasoned short-order cook. Her not-yet-patented signature spice mixture consists of salt, pepper, garlic and chocolate chips.
Luis and I are both praying Emma becomes a neurosurgeon or accountant, confining her cooking skills to hosting lavish multi-course dinner parties for her well-heeled colleagues. Please, God, don't let that child choose to become a chef. Let her shoot for a more practical and dependable career, perhaps a prima ballerina, Hollywood actress or chart-toppin' rock star. Her Daddy tells her, "You keep eating like that, and you're getting a job." Someone has to support her gourmet food habit.
More like this story
More stories by this author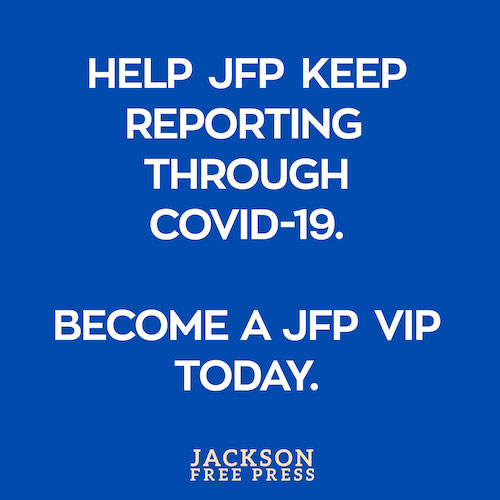 COVID-19 has closed down the main sources of the JFP's revenue -- concerts, festivals, fundraisers, restaurants and bars. If everyone reading this article gives $5 or more, we should be able to continue publishing through the crisis. Please pay what you can to keep us reporting and publishing.