A compelling story in Salon: "In the heart of the Bluegrass, a Bible Belt preacher is rallying people to political action around what he calls 'basic religious values.' Think you can describe his politics? Think again. This man of the cloth wants 'regime change' in Washington. The Rev. Albert Pennybacker, a Lexington, Ky.-based pastor, is head of the Clergy Leadership Network, a new, cross-denominational group of liberal and moderate religious leaders seeking to counter the influence of the religious right and to mobilize voters to change leadership in Washington. Pennybacker, affiliated with the Christian Church (Disciples of Christ) and a pastor of 35 years, is tired of the conventional wisdom that equates religiosity with conservatism. Nationwide, he says, the religious right often squeezes out the left in public debate. The group is 1,000 members strong -- and growing.
Previous Comments
ID

136857

Comment

More good quotes from Rev. Pennybacker: "Also, you've got the black vote. They're strongly religious, and [their voting is] going to be guided by a progressive religious point of view. There's some places where [we believe] black communities in the South hold the swing votes. Mississippi, Louisiana, South Carolina. "... At the center of black religion is a passion for social justice. At the center of the religious right, the passion is for personal piety. And those are very, very different agendas. "... What we need is public leadership that's informed by what I call a faith-based social conscience. I want the values that have flowed for generations through American life to be embraced and continue to a part of our life together. "... It's not like we're going to have to teach people how to be progressive. Religious people are progressive. All we've got to do is give handles of expression. There are more religious congregations than any other institution in American life, except bars. And we're saying this country belongs to those kind of people, and by golly, we're going to be heard in terms of its leadership and its direction." (Remember, you don't have to subscribe to Salon to read the full story; just click on the Free Day Pass, and wait a few seconds. It's worth it.)

Author

DonnaLadd

Date

2003-12-26T10:53:16-06:00
ID

136858

Comment

A very interesting Bill Moyers tonight on PBS, "Speaking to Power" a NOW with Bill Moyers Special Edition. My schedule says 9:00 p.m., but the Reuters piece someone sent me says 8:30. I wish I had a link to the whole article, but I don't. It's very long (too long to paste in here, but very interesting. I'm going to cut and paste a couple of paragraphs: http://www.pbs.org/now/sched.html "Since the terrorist attacks of September 11, 2001, leaders of America's religious right have filled the airwaves with calls denouncing Islam as a religion, promoting a belligerent American foreign policy, and advocating closer ties between church and state. To much of the press and country, Jerry Falwell, Pat Robertson, and their fundamentalist brethren are the face of American Christianity and their drumbeat of Biblical literalism has become the most familiar refrain of the Christian gospel. But a different Christian voice is challenging the monolith of the religious right and speaking to America and its leaders in language reminiscent of the Hebrew prophets and on behalf of a vision of social justice that many Christians trace to the teachings of Jesus himself. That voice belongs to an African-American son of Pentecostal parents who grew up in the segregated south and rose to occupy one of the most preeminent pulpits in the country-the very church, as paradox would have it, started by John D. Rockefeller Jr. The story of The Riverside Church and the growing influence of the Reverend Dr. James Forbes, Jr., are the subject of "Speaking to Power," a special edition of NOW with Bill Moyers airing December 26, 2003 at 8:30 P.M. on PBS (check local listings)" P.S. CW was too short for the registration, so I had to come up with something longer. It's me. [smile]

Author

C.W.

Date

2003-12-26T12:23:25-06:00
ID

136859

Comment

Well, gee, it came up with my original ID I had on here when I first starting posting here. The registration made me come up with a different (longer) posting ID, so I expected that one to show up on my post. Never mind the p.s., then.

Author

C.W.

Date

2003-12-26T12:38:32-06:00
ID

136860

Comment

Something makes me wonder if Pat Robertson and Jerry Falwell are merely advancing a political agenda disguised as a religious one. Without trying to start a religion fight, I will say this practice of "cutting and pasting" Bible verses together to enforce a frankly Pharasaic theology is the main reason I left the Southern Baptist Convention - that and what I came to see as their frankly shallow theology (yes, I know that other denominations have their own blind spots too, so let's not point fingers at me about this one.) Most obnoxious of all is that despite their claims to want to keep church and state separate, many believers think that what is unlawful to God ought to be illegal under civil law as well. If that isn't a theocracy in the making, then I don't know the meaning of the word. Charley Reese is right - God is perfectly able to enforce his own laws. The Creator doesn't need a self-appointed religious police in order to keep "His Children" in line. Besides, if even God is said to allow us the freedom to sin, then how can we mere humans be arrogant enough to think that WE have the right to keep people from sinning (whether genuine sins or mere "sins")?

Author

Philip

Date

2003-12-29T01:24:11-06:00
More like this story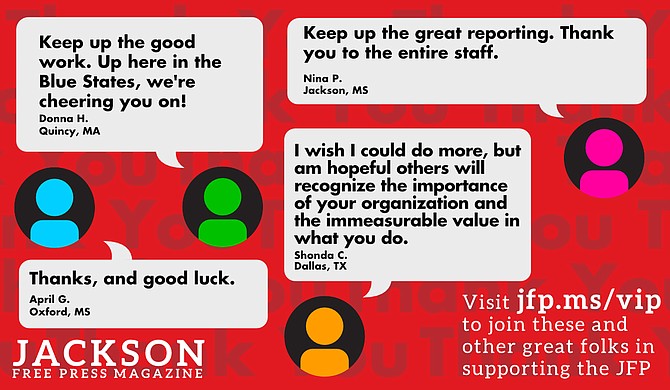 Thanks to all our new JFP VIPs!
COVID-19 has closed down the main sources of the JFP's revenue -- concerts, festivals, fundraisers, restaurants and bars. If everyone reading this article gives $5 or more, we should be able to continue publishing through the crisis. Please pay what you can to keep us reporting and publishing.